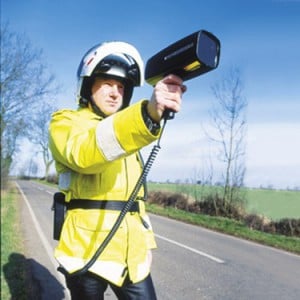 TRAP: Around £30m-worth of fines in 2012
Police raked in more than £30million in speeding fines last year – and summoned to court almost 1,000 super-offenders EVERY WEEK.
Figures show that in 2012, police shelled out 492,479 fixed penalty notices for speeding, with 48,006 court summons marking a 4,000 (10%) rise on 2011.
Court summons are issued instead of fixed penalty notices (FPNs) in cases where the speeding offence was deemed particularly serious.
Nearly one in six (16%) motorists caught were driving more than 25mph over the limit at the time – above the summons threshold in most cases.
John O'Roarke, Managing Director of LV= car insurance – who obtained the figures through a Freedom of Information request – said a growing minority of drivers may be committing the worst offences.
"While overall speeding convictions are down [by 6%], it appears that the police are rightly taking a hard line on the most serious speeding offences," he said.
"However, if a driver is caught exceeding the limit by even just a few mph, they can still be fined and given penalty points.
"Drivers should take care to know their limits to avoid a fine, penalty points or worse."
According to the FOI data, Lancashire Constabulary issued the most court summons in 2012 (10,641) compared with 52,751 FPNs in the same year.
Hampshire Constabulary was the next highest, issuing 6,778 court summons and 34,405 FPNs; followed by Nottinghamshire Police who issued 4,771 court summons and 23,597 FPNs.
Most drivers caught speeding were spotted by fixed speed cameras (62%), with a significant proportion caught by police with a roadside camera (22%) and police without a camera (10%).
In a survey, many motorists admitted they regularly exceed the speed limit without getting caught, with 14% of drivers claiming they avoid detection by memorising where police patrol.
Meanwhile, others said they have technology in their vehicles to detect fixed speed cameras and alert them while driving (16%).
Despite some drivers claiming to be getting away with breaking the speed limit, it is often a factor in the cause of accidents.
Some 360,000 motorists said they have been involved in an accident caused by a speeding motorist in the past five years.
The news comes as the government announced trials of an 80mph speed limit could take place from August this year.
According to current ACPO guidelines, a motorist caught driving at 80mph on the motorway would receive a FPN but must be travelling at 96mph to receive a court summons.
If the speed limit is increased to 80mph, it is possible that only those driving well over 100mph would receive a court summons.
The study was conducted by ICM research and commissioned by LV= car insurance.
ICM questioned 4,033 GB adults online (of which 76% were motorists) about their experiences of speeding.
A Freedom of Information request was sent to all 51 Police constabularies in England, Wales, of Scotland, of which 25 (50%) had replied with data.
LV= serve over five million customers with a range of financial products.
Image courtesy of brizzle born and bred, with thanks.