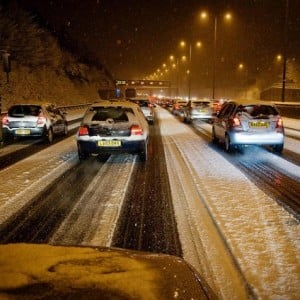 EXPERT: Tim Pike, of LK Performance
In our latest Expert Blog, Tim Pike, of LK Performance, gives his advice on how to ensure you are as safe as possible at the wheel this winter…
With the cold weather here, and forecasts predicting that it's once again going to be another harsh winter in the UK, drivers need to prepare themselves for the difficult conditions they will inevitably face over the coming months.
Winter is the one season where the most care is needed when driving.
With road conditions being affected by snow and ice, drivers need to take care to ensure their car is looked after, and that their driving is as safe as it can be.
Here are a couple of pointers on how best to stay safe on the road this winter…
In low visibility, make sure vision isn't further impaired

The winter months bring with it fog, snow and ice so it's important that cars are properly maintained to ensure drivers can still see the road in tough conditions.
Before setting out on a journey, windows, mirrors and the windscreen need to be properly cleared of any snow or ice.
Doing this before a journey means drivers have more chance of driving safely during bad weather.
Whilst snow, dirt and ice can be a problem for the outer windows, condensation is a particular problem inside a car.
As the windows become colder, due to falling temperatures, drivers should make sure that air conditioning is used to reduce any condensation to the windows from themselves or passengers, as this will limit what they can see when driving.
When it comes to foggy conditions, headlights are vital to ensuring the safety of drivers, allowing them to see oncoming traffic and any danger spots.
Of course, it's not advisable to drive around all the time with headlights on full beam as there is a risk of dazzling other drivers, which in itself could cause accidents.
When the fog lifts, and it is safe to do so, drivers should switch headlights off so that other drivers can see their brake lights and don't get dazzled by them.
With the conditions of roads a major factor when it comes to accidents during the winter, drivers should take care to drive at slower speeds and perform manoeuvres more gently.
When pulling away, drivers are advised to do so in second gear as opposed to first, easing the foot off the clutch as gently as possible to avoid wheel-spin.
Once drivers have pulled away, it's important they try to maintain a steady speed in the most appropriate gear.
Braking on ice and snow is difficult for drivers, so it's worth noting that braking gently and early will help them drive as safely as possible.
As well as this, keeping a bigger distance between cars means that any sudden braking by vehicles in front allows the drivers more time to react, minimising the risk of accidents.
Invest in winter tyres for the harshest of conditions

A set of winter tyres will help drivers to make safer journeys during the winter months.
With the added grip on slippery services together with the other precautions drivers should take during the winter, drivers will no longer have to dread making those important trips.
Image courtesy of andrew.1974, with thanks.