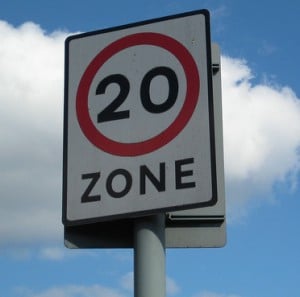 SNAPPED: Watch your speed in 20-zones!
Brake are welcoming plans by the Association of Chief Police Officers (ACPO) to clamp down on drivers who break the 20mph speed limit.
ACPO have published guidance clarifying the police position on 20mph zones, revealing motorists caught between 24-31mph will be offered a tailored speed awareness course as an alternative to three points.
The guidance also confirms drivers who are caught at 35mph or more will be reported to the courts.
Julie Townsend, Deputy Chief Executive of Brake, said: "This guidance is timely and important.
"As more and more local authorities introduce widespread 20mph limits, it is critical to get the message across to the driving public that breaking these limits is an offence and will be prosecuted.
"We welcome tailored 20mph speed awareness courses, which will deliver education to drivers who risk the safety of vulnerable road users by ignoring 20mph limits.
"This guidance supports work by community campaigners, local authorities and government to increase the use of 20mph limits in built-up areas, to protect people on foot and bike, make our communities safer, more pleasant places, and encourage greater levels of walking and cycling."