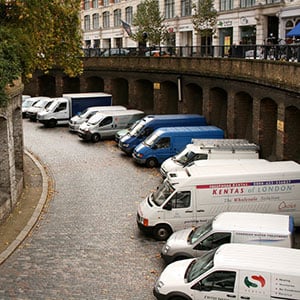 WINNER: Used van market buoyant
Latest analysis from Manheim's commercial vehicle team confirms that the performance of the used van market has now smashed all pre-recessionary records.
Results show, in comparison to 2006, despite vans being an average of nine months older, with 12,000 more miles on the clock, 2014 buyers are bidding an average of 45%, or £1,500 more to secure them.
Over the past 8-years, all three main volume van segments have seen growth in average selling price of anywhere between 20% and 50%.
Large panel vans, saw its average age increase by six months (from 54 to 60) and its mileage rise by 8,000miles (from 93,000 to 101,000) during the period of quarter 1, 2006 to quarter 1, 2014.
Despite these rises in age and mileage, this van sector saw its used value rocket by 42% (£1,470) over the eight year period.
Similarly, the car-derived van, also saw a rise in age of half a year to 58 months and an additional 12,000 miles on the clock.
Demand for this price range of van is strong, as values rose over this period by 59%, an increase in value of £1,272.
Lastly, the small panel van, saw a 27-month age rise from 41 to 68, as well as 4,000 more miles on the clock.
The average selling price rose by 20% or £584 over the eight year period.
Matthew Davock, Head of Light Commercial Vehicles at Manheim, said: "Our typical 5-year reporting window now frames the used van market performance from the depths of recession back in 2009.
"To provide more intelligence and perspective, we extended the reporting time window to eight years; taking into account the last period of record market performance – what we discovered even took us by surprise.
"2006 and 2007 were widely acknowledged as the "boom" years in the new and used van markets.
"When new van registrations collapsed by 50% in 2009 a corresponding used van supply time bomb was set.
"So, when combining this with subsequent "bust" and post recessionary recovery and the critical reliance on commercial vehicles by UK Plc, perhaps it is of little surprise to see that the used market has surged.
"What is so remarkable is that, despite considerable increases in average mileage and age we have witnessed such an inflation of used van values."
James Davis, Head of Commercial Vehicles at Manheim, said: "The latest 2014 SMMT forecasts are predicting we'll smash the 300,000 new van registration barrier for the first time since 2007.
"2014 has seen a record number of new vans launched; more than in 2006 when the record was last set.