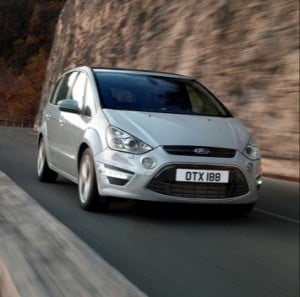 TEST: Ford S-Max trialled system
Ford have tested a high-tech early warning 'brake light' that can caution drivers following behind – even if they are around corners or behind traffic.
The technology – called 'Electronic Brake Light' – transmits a wireless signal to illuminate a dashboard light on following vehicles in emergency braking situations.
Studies found the technology could enable drivers to brake earlier and potentially mitigate or avoid a collision.
Electronic Brake Light is one of 20 potential future systems Ford tested as part of Safe Intelligent Mobility – Testfield Germany (simTD), a four-year joint-industry research project.
The project aims to find intelligent transport systems that could reduce congestion and potentially improve safety.
Field tests involved 500 test drivers in 120 vehicles – including 20 Ford S-MAX models.
Testers logged more than 41,000 hours and almost a million miles on public roads and an enclosed test track in Germany.
Paul Mascarenas, Chief Technical Officer and Vice President of Ford Research and Innovation said: "Car-to-car and car-to-infrastructure communications represent one of the next major advancements in vehicle safety.
"Ford is committed to further real-world testing here and around the world with the goal of implementation in the foreseeable future."
Ford also tested Obstacle Warning, which alerts drivers to objects on the road, and Traffic Sign Assistant, which provides up-to-date information from traffic management centres.
Engineers from Ford's European Research Centre in Aachen, Germany, led the Electronic Brake Light development, testing and data analysis.
simTD is a joint project by leading German automotive manufacturers, component suppliers,  communication companies, research institutions and public authorities.
Project funding was approximately £45million, of which £26million of direct project promotional support was provided by the Federal Ministry of Economics and Technology (BMWi) with the Federal Ministry of Education and Research (BMBF).
Image courtesy of Ford in Europe, with thanks.