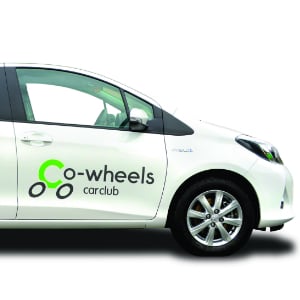 Co-wheels, the UK's only independently-owned national car club, has joined forces with sustainable travel consultancy, Go Travel Solutions to extend its car club membership offer throughout the UK.
UK employers registered as members of Go Travel Solutions' Smartgo workplace travel networks can now join Co-wheels for £25 (matched by a subsequent £25 worth of credit) and can sign up staff members as drivers for just £5 each – a reduction from the standard £12 per driver. Employers nationwide can access discounts for staff of over 50 per cent per driver.
Car club membership allows staff to travel to work more sustainably – either walking, cycling, public transport or lift sharing, with access to a car nearby to use when needed for business travel. The model is flexible, and means businesses only pay for the journey time they use – from 30mins up to several days. For staff that also wish to access the vehicles outside of work, Smartgo members can upgrade their account for free to a personal membership.
Co-wheels now operates car clubs in over 60 locations across the UK ranging from Bournemouth and Bristol, to Oxford and Newcastle, through to Aberdeen, Dundee and Glasgow. 
Smartgo has been developed and coordinated by Go Travel Solutions to assist UK workplaces with commuting and business travel. The network provides employers with a range of business benefits including reduced business costs, carbon management planning, reduced car parking demand, enhanced business reputation, and improved staff recruitment and retention. 
Staff can also benefit through cost savings offered by Smartgo as well as enjoying better health and wellbeing, and reductions in their carbon footprint through more walking, cycling, car sharing and use of public transport.
According to the Carplus Annual Survey of Car Clubs 2014/15, over the past five years, there has been sustained growth in car club membership to over 22,500 members using almost 700 vehicles in England and Wales, outside London. The report also noted that electric vehicles are increasingly being embedded into car club fleet and this has resulted in a continued decline in the average carbon emissions of the car club fleets. Co-wheels offers a range of low-to zero emission cars, with one in three being either hybrid or fully electric. The CO2 emission profile for the car club fleet is 40 per cent lower than the UK average car.
Liz Gray, Regional Manager from Co-wheels said: "The Smartgo network provides a wide range of convenient sustainable transport options, and Co-wheels fits into this mix perfectly. Providing all the information in one place, along with some excellent incentives, makes it easier for businesses to make smarter decisions for their staff travel, and we are very happy to be part of the network."
Phil Saunders, Business Development Manager at Go Travel Solutions added: "We're delighted to team up with Co-wheels to extend their growing car club options through our Smartgo networks. There's a real synergy here as we're both looking to help members to save money, extend the transport options available to them, and create a cleaner environment by embracing lower impact travel choices."