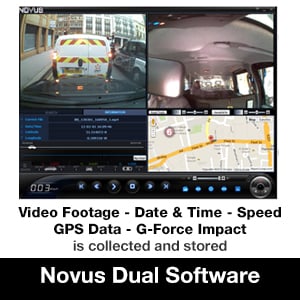 HELP: Let Novus help your drivers
Although year-on-year the number of road traffic accidents being reported is going down, the number of people making a successful insurance claim is concerning.
Incidents involving two solo drivers can be the most difficult to judge as placing one person's word against another is subjective and unlikely to be upheld by law.
Insurance companies can fully or partially reject claims where there is not enough supporting evidence.
This means that after suffering a traumatic and stressful experience, accident victims are being kept awake at night by the stresses of legal proceedings, with no guaranteed outcome.
Fortunately, as technology develops there are ways to maintain elements of control, even in the worst-case scenario of a car crash.
Black box insurance schemes are one way to add protection to your driving.
By adding a telematics system to your car, your driving style, speed and location can be tracked, as well as camera footage of the road.
This is valid evidence for legal proceedings if you have an accident.
However, many established drivers don't want to be tracked nor have their insurance premiums increased for driving at night or on a busy commute.
Private purchase Novus Witness Cameras are available for drivers, giving any car owner the potential to increase their security on the road, without the limitations imposed by an insurance firm.
There are a variety of different levels of protection available, from the full black box kit which records location, speed, impact force and more, to a single high quality front camera.
A lot of logistics and driving firms have improved safety and driving issues by installing a Novus Witness camera system in their fleet, giving them the control over how and when data is used.
As Novus are an accredited telematics provider, the telematic systems will help to decrease insurance premium by up to 15%, which is a fantastic ongoing saving.
Taxi drivers have also reported that using systems such as the SSL Ruby camera in their cabs improves passenger behavior as it can record even in low light.
This is why the system is strongly supported by Transport for London.
Driver behavior also has a notable improvement, as the cameras raise awareness of the road, better driving often saves money on fuel due to slower acceleration and steadier break usage.
The main thing to remember with technology is that you get what you pay for.
If you buy a cheap camera the recordings may be poor quality.
If a cheap camera fails, or misses key information like number plates it will be money wasted.
It is also crucial to make sure you have an accredited brand such as Novus, so that you know your insurer will accept the data, and that your data is not being used in compliance with Data Protection laws.
The Novus Witness Cameras can be used as evidence in court and record every journey.
The system has been accredited by FORS, TFL, insurers and councils across the country.
Plus once you have your camera fitted there are no ongoing costs, so it is a worthwhile investment that could potentially save you thousands in the long run.
In a recent interview with POST, Deloitte partner James Rakow stated: "The number of telematics policies still only accounts for between 1% and 2% of the motor insurance market," adding that "insurers are beginning to report interest from a broad range of customers".
Other industry predictions suggest that by 2016 50% of drivers will be using black box technology in their vehicles.
This increased use of telematics systems is reassuring as increasing numbers of insurance claims will be upheld and good drivers will be supported.
This article is an advertorial by Novus. Find out more about our advertorials here.
Contact Information