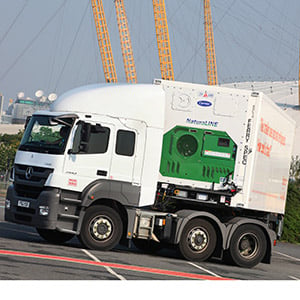 Sainsbury's use of CO2 in transport has earned them a nomination
The Society of Motor Manufacturers and Traders (SMMT) has announced the shortlist for its 2014 Award for Automotive Innovation
With contenders ranging from Formula 1-inspired energy recovery systems to advanced new engines, the Award – sponsored by GKN and supported by The Times – recognises new UK-developed technologies with the potential to leave a lasting impression on the whole automotive industry for years to come.
The SMMT Award for Automotive Innovation 2014 shortlisted entries are:
Automotive Insulations – Xlite
An advanced range of sound-deadening materials for electric and lightweight vehicles
Carrier Transicold – NaturaLINE
Use of CO2 in a transport refrigeration system, adapted from sea containers, and being pioneered in a trial with Sainsbury's
Dearman Engine Company – The Dearman Engine
Liquid air technology for efficient transport and cooling systems
Jaguar Land Rover – Ingenium Engine
New family of compact, lightweight, low-emissions diesel and petrol engines
Torotrak Group – Flybrid KERS for bus applications
Formula 1-inspired fully mechanical energy recovery system to improve efficiency in buses
Vocis Ltd – OGeco
Hybrid automated manual transmission using an electric motor to deliver extra power, smoothness and efficiency
Mike Hawes, SMMT Chief Executive, said, "The UK has an abundance of world-class automotive design and R&D talent, a fact perfectly embodied by the quality and breadth of this year's shortlist. The Award for Automotive Innovation is a great example of the work SMMT is doing with its members and government to ensure that the UK remains at the forefront of global vehicle development."
The shortlisted entrants will present their innovations to a panel of industry experts, with the winner announced at the SMMT Annual Dinner on 25 November. As a first for the Award, shortlisted entrants this year have the opportunity to present their innovation at the 2014 Automotive Engineering Show on 12 November.