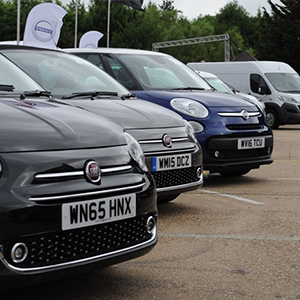 2017 has been a momentous year for the fleet industry, with evolving technologies and other developments all having ramifications for the way transport operators work.
But what will the New Year bring? Paul Holland, Chief Operating Officer at FLEETCOR, explains why he thinks fuel efficiency will be the key driver of operators' strategies in 2018.
The first half of 2017 saw the total vehicle operating costs for fleet vehicles – from cars to 44-tonne articulated lorries – increase by 2.5 per cent. By far, the largest contributor to these costs was fuel, ranging from 17.6 per cent for 7.5 tonne vans to 31.65 per cent for the largest vehicles.
In 2018, we will most certainly see this trend continue, with fuel prices projected to rise further throughout the year. Bulk Diesel, in particular, is anticipated to rise in price by a significant 2.9 per cent by the end of Q4 and in April 2018, the Governments Renewable Transport Fuel Obligation will add around a further 0.7p per litre across all diesel purchases in the UK.
All of this, combined with potential increases in maintenance costs as the value of Sterling fluctuates, means that we can expect transport operators' profit margins to come under increased pressure in the New Year.
Taking this into consideration, I think we can expect to see a growing number of operators looking to streamline their operating costs over the next 12 months by taking steps to boost the fuel efficiency of the vehicles in their fleets.
But how can they achieve this goal? Here are my top tips to help transport operators cut fuel costs across their fleet in 2018, and protect their bottom line.
1.  Harnessing management information
From mileage, to the number and frequency of fuel stops, to maintenance logs, the vehicles within a fleet offer operators a wealth of information that can help them take steps to improve fuel efficiency, provided they can collect and analyse the data effectively.
Having comprehensive management information (MI) protocols in place can help managers optimise the collation and monitoring of data relating to fleet performance. With all of this information in place, managers can have all the tools available to them to replace the vehicles in their fleet that cost the most to run, and to choose more efficient replacements.
Fuel cards go a long way towards providing MI relating to fuel use, providing data to help managers identify outliers in driving statistics across their fleet. They can also help operators track the time, date, value and location of transactions, so they can better understand their driver's behaviour on the road.
Not all fuel cards are equal, however. Some offer more potential for improving control than others.
2.  Boosting telemetry
Telematics systems can provide in-depth data about how each vehicle in the fleet is being used – how many miles they do, the routes they take to their destination and their average speed. They can even monitor the way drivers drive – how hard they accelerate and brake.
Armed with this information, fleet managers can identify where common routes can be changed to reduce mileage and excessive consumption. This route data can even be matched with fuel card information to determine not just whether there are more efficient routes that drivers could be taking, but whether there are cheaper fuelling stations that could be used as well.
Advanced fuel cards offer a lot of this information to complement fleet telematics. Those from FLEETCOR subsidiary, Allstar Business Solutions, offer a business mileage monitoring feature, which allows managers to view drivers' full journey details, including actual pence per mile calculations, without the need for receipts. All of this data can be used by managers to make recommendations to team members about preferred fuel providers and travel itineraries.
As well as helping to inform managers' recommendations, the data gathered from telemetry and fuel cards can feed into training programmes designed to improve driver behaviour. Information for specific vehicles can also be used to pin-point drivers with less efficient motoring techniques, so that courses can be tailored to their specific needs. The best-performing drivers can even be rewarded to incentivise the rest of the team, helping to further boost fuel efficiency.
A final and key feature of integrating telematics and fuel card transaction data is that vehicle operators are able to reconcile fuel purchased versus fuel consumed.  Whilst internal fuel fraud or theft may be limited, it is a vital control to manage operating costs.
3.  Turning the spotlight on maintenance
The way a vehicle is maintained can have an enormous impact on fuel efficiency. Dirty engines use more fuel, while tyres that are worn or at the incorrect pressure can negatively affect how quickly the car accelerates, resulting in the motor having to work harder.
With this in mind, improving maintenance procedures can go a long way towards streamlining fuel costs across the entire fleet. This doesn't just mean increasing maintenance frequency, but taking steps to identify vehicles' potential needs before they roll into the garage.
Keeping track of each vehicle's marque can help, as mechanics can analyse known issues related to specific models to predict where they need to pay extra attention.
Even better, harnessing MI and telematics can provide specific information about the usage and performance of each car, van or lorry that can help mechanics pin-point any issues in advance of the scheduled maintenance session. For example, a car that has done an unusually high mileage may need a change of tyres. If the telematics for a vehicle indicates it is accelerating sluggishly, mechanics can make a point of thoroughly checking the engine for any faults that need to be rectified.
4.  Rethinking fuel station networks
The UK has rather uneven fuel network coverage – in urban centres in South and Central England, drivers can have their pick of fuel stops, while in the Scottish Highlands, stations may be few and far between. This can have implications for fleet drivers if they can't find a station that accepts the fuel card issued by their employer.
A solution that is accepted by a large and convenient network of fuelling stations, like the fuel card from FLEETCOR subsidiary, Keyfuels, can support fleets that operate across the UK. It not only gives them the confidence that their drivers will be able to refuel, but enables them to find new routes to recommend to drivers that offer the most cost-effective fuel stops.
Opting for a fuel card accepted by a larger network also makes it possible for operators to put controls in place to manage their driver's choice of fuel and potentially reduce costs further, without impacting on the availability of fuelling stations. Fuel cards featuring advanced management software, such as Keyfuel's ControlMAX, enable operators to control which fuel stations they can be used at and the volume of a purchase, by declining a specific transaction, but allowing future ones, or blocking the card so that no further transactions are allowed. These tools can help operators take advantage of changes in pricing at different locations, or accommodate busier driving schedules at Christmas and other peak periods, so they can better manage their fuel costs across their fleet.
Overtaking fuel challenges in 2018
Fuel is already the largest cost faced by fleet operators and, with the continued weakness of Sterling, it is only likely to get worse over the next 12 months.
By taking these steps, and acting now, fleet operators can ensure they are doing all they can to streamline fuel consumption across the vehicles in their care. That way, they can insulate themselves from fluctuations in fuel prices in 2018 and, ultimately protect their bottom line.