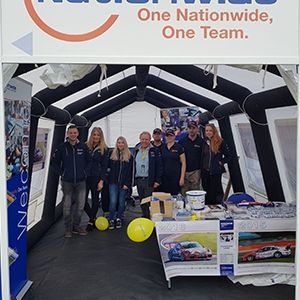 Nationwide Repairs-backed driver Daniel Cammish moved to the top of the Porsche Carrera Cup GB championship standings after a dominant double win at Oulton Park in Cheshire.
The Leeds-based Porsche driver completed a clean sweep of two race wins, a double pole position and a brace of fastest laps at the 2.23-mile Island circuit, leaving the weekend with the championship lead in his pocket. In qualifying Dan saved his best until last in sodden conditions, snatching pole position by over half a second in a commanding display that secured him the pole position for both races.
"The track just got faster and faster and I got two good laps in the end", said Dan. "I timed it just right both, with when we came in and the way the traffic just parted on my last lap."
Race one was held under much more admirable skies later on Saturday afternoon. Dan was leading from lights-to-flag to beat Dino Zamparelli by over three seconds to claim the championship lead. The race was halted initially after a multi-car accident in his mirrors, involving 10 fellow drivers.
"The car felt good all race," said Dan. "I knew how important it would be to get into the first corner in front, especially as it's so narrow. Once I was in front, I could control the pace and because it's a difficult circuit to overtake on, I felt comfortable in the end with the pace we had."
Dan made no mistakes from the standing start a day later in the race two, again looking comfortable as he pulled out a winning margin of 3.4s over Zamparelli to complete his double triumph.
"We got a great start in the race," added Dan. "It was just a matter of managing the tyres, keeping the car in check and of course keeping yourself in check. We've had two wins, we're back in the lead of the championship and I think we'll start to push on from here on."
Dan was once again lucky enough to enjoy considerable support from the Nationwiders who attended the race to cheer him on first hand. Everyone enjoyed watching Dan add to his impressive win tally in the orange, blue and white Nationwide backed Porsche, his ruthless focus on success once again shining through. The Nationwide Race Hub, set by the Nationwiders themselves was also buzzing with visitors who took the most out of the day while meeting the Champion and learning more about Porsche car and challenges on truck.
Katie Tyler, the Talent Acquisition specialists at Nationwide who volunteered to help out and looked after the guests said: "It was great day yesterday at Oulton Park and although it was an early start for the volunteers it all payed off and it was a very successful day. We raised just over £160 for the Air Ambulance and with Dan Cammish setting an impressive time on the race simulator, we had lots of guests having a go to try and beat him. It was amazing to meet Dan and his mentor and the racing Champion Tim Harvey who also paid their visit and met with our guests.
Our CEO Michael Wilmshurst was there to show his support and visited the Race Hub throughout the day along with hundreds on Nationwiders showing their support for Nationwide, Dan and the Carrera Cup.''
Dan will be racing again this weekend as he continues his Porsche Supercup campaign at the famous Monaco Grand Prix circuit. He returns to Carrera Cup GB duties on the 17th June, racing at another legendary venue, Le Mans.