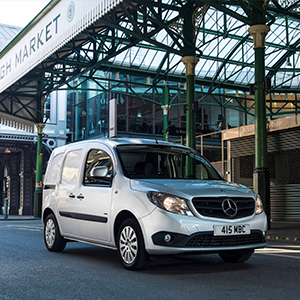 Mercedes-Benz Vans UK Ltd has once again shown its commitment to keeping businesses moving by sponsoring the Supply Chain Champion category in the UK's inaugural Small Awards.
This award recognises small businesses that are working within the business supply chain and will recognise financial success in these businesses, as well as a strong history of customer engagement, relationship development and contribution to local small business eco-system.
Diverse shortlisted entries include: sarahBee marketing Ltd; Cre8tive Space Limited; Circuit Electrical Testing Ltd; Fresh Nous; and ThinkingCX.
Andy Eccles, Head of Business Development, Mercedes-Benz Vans UK Ltd, said: "At Mercedes-Benz Vans, we have a long history of innovation and bringing new ideas to market, so therefore we have a natural affinity with other businesses that look to do the same. This means small businesses form a major part of our customer base.
"We are proud to be supporting the Small Awards and championing small businesses. We have many resources available for small businesses, including free, downloadable industry insight reports and Driver Safety Guides that we want to share to all small businesses, not just our customers.
"Keeping businesses moving is our philosophy at Mercedes-Benz Vans and we have many examples of this, including with some of our big fleet customers who actually starting their relationship with us as small businesses and we've worked together for many years understanding their needs and how we can help – Ocado is a perfect example of this."
Mercedes-Benz Vans UK Ltd has joined forces with Ocado, the world's largest dedicated online grocery retailer, to judge the Supply Chain Champion category and will be offering the winner of the award ongoing support and advice, including sharing best practice around on the safety surrounding the supply chain process.
Neil Shaw, Head of Training & Development for Ocado, said: "We are very proud of the partnership we have developed with Mercedes-Benz Vans over the years, and work very closely with the team to share best practice ideas. We are pleased therefore to have the opportunity to share our knowledge with the winner of this category alongside Mercedes-Benz Vans to give something back to other businesses."
The Small Awards will recognise the achievements of small businesses in ten categories across multiple sectors and areas of activity, including high street businesses, family businesses, start-ups and business-to-business companies, as well as those that export, and even companies that contribute most to their community. One of the individual category winners will also be named overall Small Business of the Year.
The judges for this year's Awards include the former Business Secretary Sir Vince Cable; 2014 Apprentice winner Mark Wright, who now runs SEO and PPC agency Climb Online, and former Digital & Culture Minister Ed Vaizey.