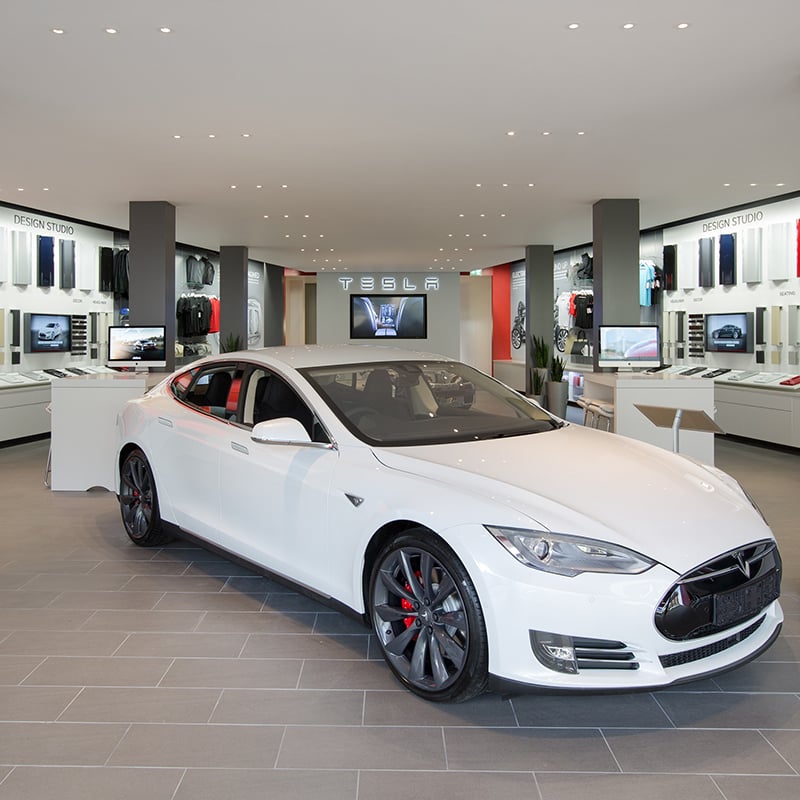 The Model S isn't exactly a fleet vehicle but allow us this luxury?
There are certain moments in time when an opportunity is too good to pass up. I know, I know, the Tesla Model S isn't exactly a fleet vehicle but with their new store opening in Knutsford, Cheshire, earlier this month I couldn't say no when the team invited FleetPoint along for a press day and test drive. Besides, there's a huge chunk of our readership who are company executives who might be interested… or at least that's how I justified it.
The afternoon began with a roundtable discussion with Georg Ell, the Country Director for UK and Ireland, who talked us through the background of Tesla and the unique design process behind the Model S, along with all the specs and unique selling points behind the car. The Model S is the first Tesla car to be built from the ground up, having previously used Lotus gliders for their Roadster model, and the car has essentially been built around the battery – expertly designed and conceptualised by Franz von Holzhausen. Unlike other automobile brands, Tesla have also taken on a unique distribution model with its products, selling them solely through company-owned boutiques rather than conventional dealers and not offering endorsements of any variety, instead relying on word of mouth and open events to promote the brand and vehicle.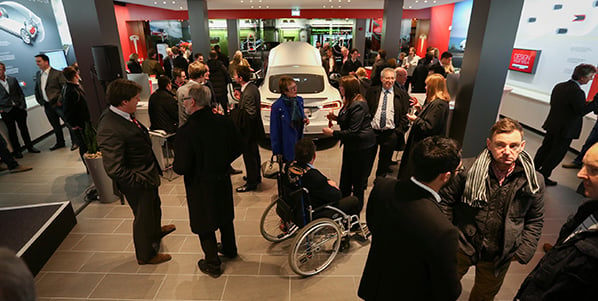 After the chat and a quick Q&A, we were given a Model S to drive. Now, I guess I should qualify this by saying that the only other electric vehicle I've previously driven is the Nissan eNV200 – so while I was familiar with the tech concepts, charging routine and driving tips for getting the most out of a charge I was somewhat dubious about how an electric sports car would perform when a delivery van's charge depleted so quickly. This was unfounded. The performance of the Model S is uncompromising and charge is pretty much a non-existant worry, delivering 285 miles of range at 65mph on a single charge and an acceleration of 0-60mph in 3.2 seconds. Needless to say the Model S breaks the mould when it comes to EV innovation.
Let me just repeat that – it goes from 0-60mph in 3.2 seconds. The crazy speed builds silently and you suddenly begin to panic that you'll start time travelling before you know it. Those numbers and that statement – absurd for a large sedan that doesn't use a drip of petrol – honestly fail to communicate how fast that is and how crazy it feels. It's alarming how such a big car can surge forward so quickly and quietly, its torque generated almost instantly. In fact the only indication of your absurd momentum is the scenery flashing before your very eyes as the digital speedomoter struggles to keep pace. The chunky steering wheel is comfortable and the electric power steering is nuanced and well-weighted – going through corners, the Model S exhibits impressive control and the suspension is almost supernatural in it's ability to soak up bumps and potholes that other cars would scream at.
This speed and response is disguised by just how conventional the Model S looks. When things like the door handle coming out of the door to meet your touch happens and you spend a few moments searching for an ignition button you realise that it is anything but conventional – in fact the car turned on when you sat down and its patiently waiting for you to get started. The cabin is airy and specious and stylishly trimmed in leather and wood, with a 17″ tablet taking up the majority of the dash. This features the controls for everything from the radio to sun roof to the steering effort but if I had one problem with the Model S this was it – there was almost too much going on with the tablet that it tended to distract me while driving.
These are all just initial impressions and I'd love to get my hands on a Model S for a longer period to really put it through its paces. The sad thing is that none of this comes cheap. In the UK, prices for the Model S start at £49,380 on the road, including the £5,000 government plug-in grant. UK Model S customers can also benefit from other government incentives including zero road tax, zero showroom tax and exemption from London Congestion Charge. The car is also eligible for the 100% First Year Allowance for company purchase and 0 percent Benefit in Kind, both of which last until April 2015.
With all that said, the worst thing about taking the Model S for a spin? Getting into my conventional combustion-engine car to travel back to the office.