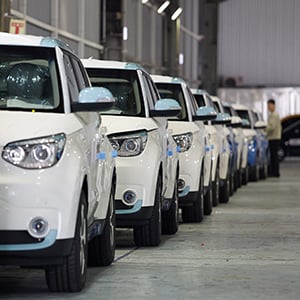 Fleet sector value lowers as average mileage increases
Fleet sector value lowers as average mileage increases
Although their latest figures reveal a continuation towards decreasing fleet sector values, Manheim, the world's leading vehicle remarketing organisation, argues that it is in line with a wider movement which has seen organisations holding onto their vehicles slightly longer and driving them harder. As such it might be time for the market to realign its expectations.
The Manheim Market Analysis demonstrates that, at £7,045, October 2014's fleet sector value was £679 lower in comparison to October 2013 (a change of -8.8%). Ex-fleet stock is now five months older than the same period in 2013, at 54 months compared with 49 months, while average mileage has increased from 55,547 to 62,663 miles (or 12.8%). According to the Manheim figures, this is the highest mileage the ex-fleet sector has seen since the start of 2014.
Looking at the month-on-month data, ex-fleet stock achieved selling prices £90 (or 1.3%) lower than the comparable figures from September 2014. It was also, on average, one month older, with an additional 2,099 miles compared with the previous month – an increase of 3.5%.
Commenting on the data, Daren Wiseman, valuation services manager at Manheim said: "While these figures do highlight a downward trend in fleet sector values across 2014, the numbers are in line with the age and quality of the vehicles being offered as well as the wider market conditions. In addition, record registrations in the new car sector have led to an influx in part-exchange vehicles from the retail sector, which has delivered increased competition for ex-fleet stock in the wholesale markets."
It is clear that the market may need to realign expectations over the coming months but despite this values are still performing much higher than in both 2011 and 2012. This is positive news for the ex-fleet sector, as it shows that the market is on the recovery journey post-recession.
While average values have fallen during 2014, the overall demand trend means that vendors who price their stock accordingly will continue to see strong conversions.
Looking at Manheim's Market Analysis in more detail, three of the seven segments analysed actually saw an increase in selling price, month-on-month. This included the medium family segment, which makes up the largest proportion of ex-fleet stock – which saw an increase in selling price of £135 (or 2%), despite a corresponding increase in mileage of 1,588 (or 2.6%). The other models showing a month-on-month increase in price were 4×4 and MPV vehicles.