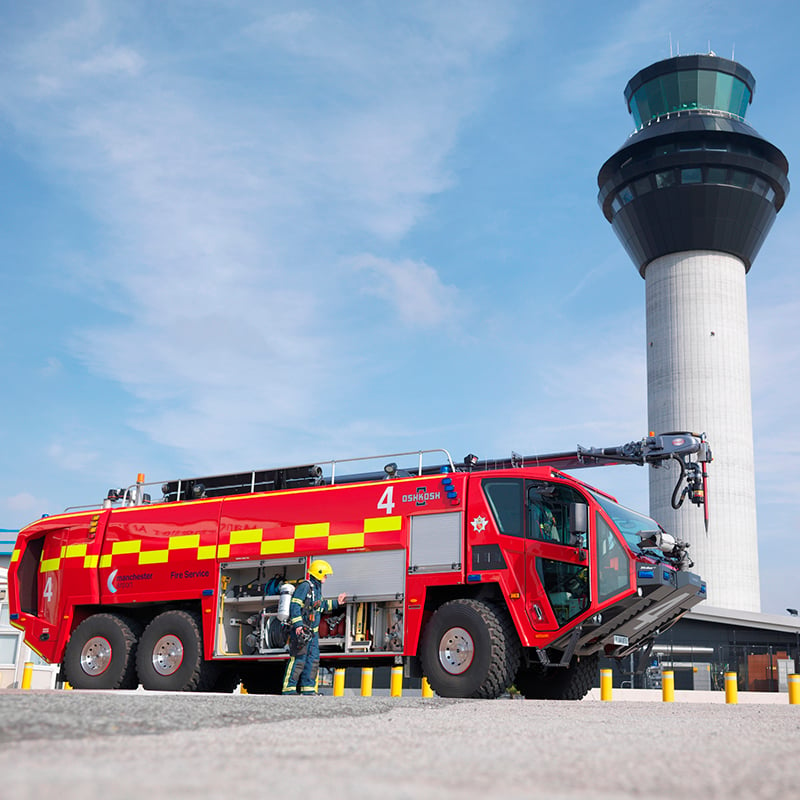 Fire!
Manchester Airport's Fire Service unveils new state-of-the-art Oshkosh Global Striker Vehicles
The six new Oshkosh fire vehicles from Terberg DTS are equipped with the latest technology to assist in making firefighting operations safer, including Forward Looking Infra-Red Cameras, High Reach Extendable Turrets (also known as 'Snozzles') and more environmentally-friendly foam. The vehicles are part of a £4.2million investment into the airport fire operation.
With all 6 fire vehicles manufactured in and shipped from Wisconsin, USA over the last three months, the sixth and final vehicle arrived at the airport in late September. All 84 firefighters who are based at Manchester Airport are now fully trained to use the vehicles and equipment.
The new fire vehicles were showcased to 150 guests at an event held at Manchester Airport's Runway Visitor Park. Guests from emergency services around the country as well as MAG colleagues, former Manchester Airport firefighters, Oshkosh and Terberg DTS representatives were also shown a demonstration of the new vehicles in action using the airport's training ground, Big Rig.
At the unveiling of the new Oshkosh fire vehicles, Steve Metcalf, Manchester Airport's Chief Fire Officer & Emergency Services Manager, said: "The introduction of this fleet has presented us with the opportunity to introduce a new operational model incorporating a completely fresh approach, adopting revised tactics and techniques to enable us to create a safer environment for our passengers, operating crews and firefighters. These are exciting times for the Fire & Rescue Service at Manchester Airport as these new procedures, supported by our new vehicles, have modernised our operation."
Echoing Steve Metcalf's comments, Jim Johnson, Oshkosh President of Fire and Emergency, said: "We are honoured to have been a part of this project at Manchester Airport and to provide these new vehicles for Manchester Airport's Fire Service. We worked very closely with the airport on this project to deliver the best appliances and service possible. It's been fantastic to see the new vehicles in action and the firefighters here showcasing their new skills."