2022 has certainly been turbulent. The war in Ukraine, record fuel prices, unprecedented inflation, the continued fall-out from COVID, Brexit and a recession in the UK. Businesses are facing a set of challenges not seen before.
Political chaos and economic instability have forced business leaders to make some tough decisions. And – although they can't publicly admit it – 'the good' is losing out to margins and growth. ESG drives, net zero strategies, and sustainability initiatives are being side-lined so businesses can continue to operate in these tough times.
In fact, a recent survey by KPMG found half of CEOs are considering pausing or revisiting their ESG efforts in the current economic climate, and 34% already have. But operating an efficient business should go together with operating a sustainable one. The two principals are mutually beneficial, and technology is the key to enabling this close relationship.
The supply chain is one place where efficiency can drive the green agenda as well as cost savings. There are some interesting innovators already putting sustainability at the heart of their value chain – Henkel, P&G, and Zara for example. Henkel has an ambitious plan to reduce the carbon footprint of its factories by 65% by 2025, and the German company aims to be 'climate-positive' by 2030.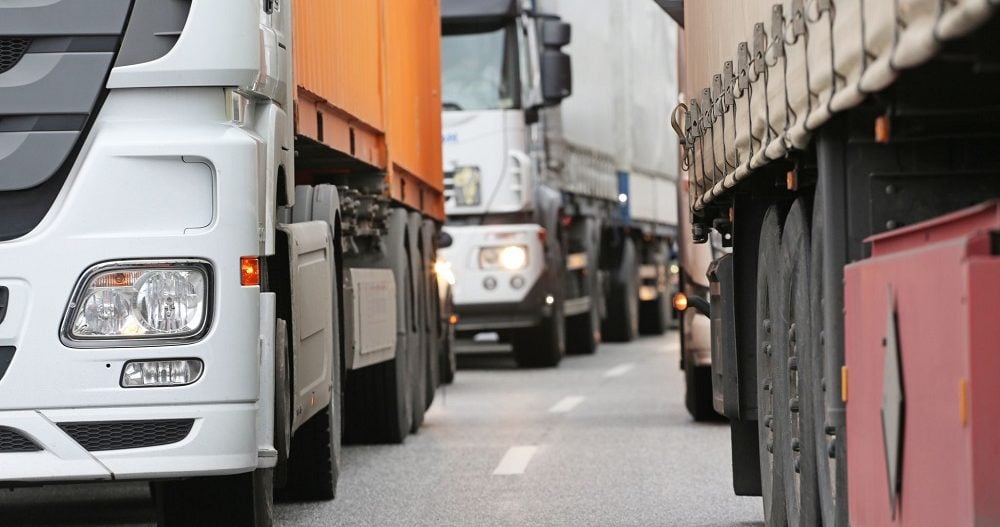 The road freight industry however, which relies on fleets of HGVs, is lagging behind other industries when it comes to efficiency and sustainability. This is despite it being a critical cog in our consumer-based economy. We see manufacturers across the UK and Europe struggling to roll out meaningful sustainability initiatives in their distribution and supply chains. But it doesn't need to be this way.
Digital transformation is already helping shippers streamline their middle mile distribution. Freight management technology is cutting out intermediaries, automating repetitive tasks and slashing admin hours. If you combine this with load optimisation, route planning, new fuels, advanced telematics, and mobile logistics, freight businesses can drive huge efficiencies and make significant reductions in carbon emissions at the same time.
But even with new technologies and more efficient ways of working, road freight is still a significant generator of carbon emissions. Net zero across HGV fleets can, ultimately, only be achieved with zero-emissions technology. And we all know that battery-electric and clean hydrogen HGVs still have several hurdles to overcome, before we see them as common-place on our roads.
But the world cannot wait, and neither can our economy. The Paris Agreement is off course and, according to the UN, current climate plans could lead to an increase of almost 11% in global greenhouse gas emissions by 2030, rather than a reduction.
It's our belief that governments need to play a bigger part – the private sector cannot drive change alone. Unfortunately, the current approach of fuel duty hikes and the phasing out of diesel vehicles is uncoordinated and short-sighted. In fact, it could even stall greener vehicle development and the infrastructure roll-out that we so desperately need to operate those vehicles commercially. If we leave it too late, businesses, our supply chain and the environment will all suffer.
It's not all bad news. We understand that green technology, including electric HGVs, involves big investment, and it's not going to happen overnight. But there is an alternative that can help make real reductions in CO2 emissions, now – HVO fuel. A drop-in replacement 'bio-diesel', Hydrotreated Vegetable Oil is made from waste, it's renewable, and can be used to run any diesel truck, car or van right now.
More good news? The production of HVO is not impacted by the war in Ukraine or the price of fossil fuels. Scientists have shown that HVO can reduce carbon emissions by up to 90% when compared to conventional diesel. Admittedly it costs a bit more – around 10-15% more than diesel, but the benefits are huge.
The Global Logistics Emissions Council is reviewing HVO – and we hope it can do this with some urgency. This intermediate fuel is a great way for businesses to cut emissions today and, combined with a digital freight management platform, make double-digit savings in their operating costs too.
Our consumer economy is here to stay. But we can't run it into the ground and expect the environment around us to hold up. We need to combine science, technology and the will to make things better to deliver a more modern supply chain for everyone. For us, sustainability is about sustaining our economic needs while also building a future for freight that is good for the planet and future generations.
Upgrading our freight infrastructure, supporting freight providers of all sizes, and investing in new technologies and ways of working are essential steps. Only then can we have a tangible, positive impact on the long-term health of our economy and the environment.
---
Authors: Jai Kanwar & Clemente Theotokis, co-founders and joint MDs of Zeus