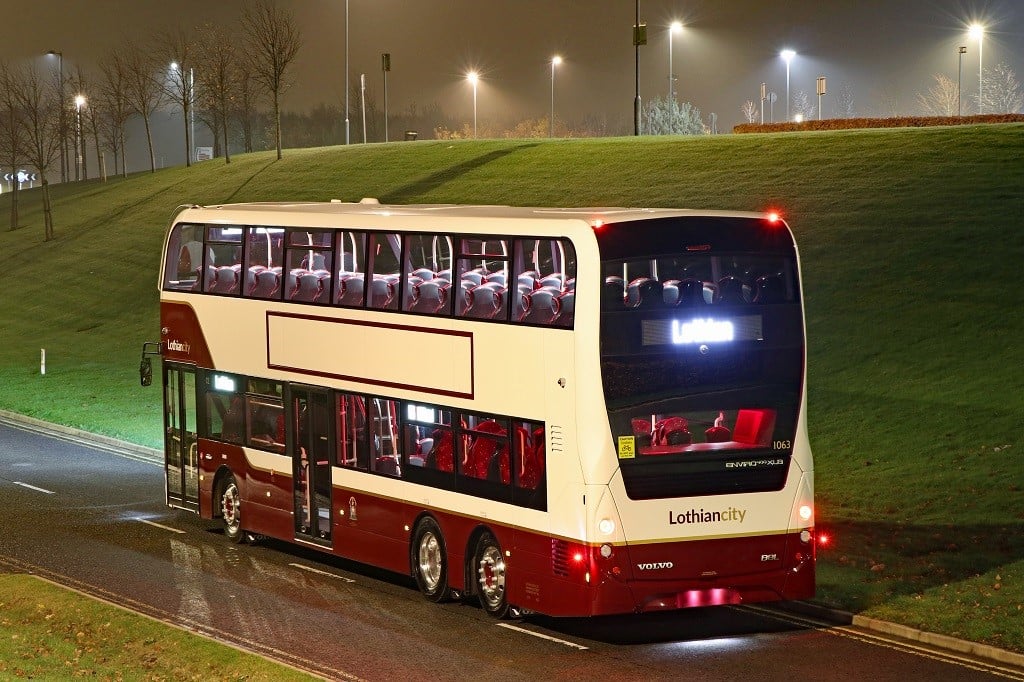 The rollout of a fleet of 42 new Enviro400XLB-bodied Volvo B8Ls will begin in January 2019
Alexander Dennis Limited (ADL) has unveiled the brand new 100-seater 13.4m Enviro400XLB tri-axle double-decker, developed in close collaboration with Lothian and chassis manufacturer Volvo.
The Enviro400XLB is the first bus for the UK to be mounted on Volvo's recently launched tri-axle B8L chassis and is powered by a 350hp Euro 6 D8K engine, coupled to a ZF EcoLife transmission.
An ADL spokesperson told CBW: "Lothian is a long-standing Volvo customer and wants to continue this relationship. The Volvo B8L chassis offers a great platform for a three-axle vehicle with a proven engine that is much used in UK coaches and buses and therefore can be maintained easily. Working with Volvo is in line with ADL's policy of working with strong partners who offer the best solution in a given area."
In total, 42 of the high-capacity Euro VI buses are expected to enter service in Edinburgh from January onwards. They will all be manufactured at ADL's Falkirk facility.
With Lothian's services in the Scottish capital seeing consistent patronage growth, the operator collaborated with Alexander Dennis to develop the new vehicle. Each vehicle can carry 31 standees as well as 100 seated passengers. A single wheelchair position is specified beside three tip-up seats.
The high-spec interior includes an audio-visual system, utilising a pair of monitors on the lower deck
The Enviro400XLB is also equipped with two sets of passenger entry doors – one forward of the front axle and another in the middle of the vehicle to speed-up dwell times at bus stops. ADL noted that the second door can be removed to tailor the vehicle for private hire operations.
The specification of each bus includes high-backed seating, WiFi, USB charging points, mood lighting and audio-visual stop announcements.
The Enviro400XLB shares its body structure with the two-axle Enviro400. The Enviro500 has a different body structure and remains ADL's three-axle double-decker product for international markets. An ADL spokesperson explained to CBW that this is because the Enviro500 is designed to be air-conditioned and its body structure takes this into account, making room for all the required ducting etc. for a high-power air-conditioning system. This makes the structure more complex (and expensive) than an Enviro400, with features not required for the UK market. The decision to use the Enviro400 body structure was also made for ease of maintenance and repairs.
Although the vehicle has three axles like an Enviro500 double-decker, it uses the same body structure of the Enviro400 as no air-conditioning is required
ADL Chief Executive Colin Robertson handed over the first bus to Lothian Managing Director Richard Hall on 8 November in a ceremony at the manufacturer's Falkirk plant. The ceremony was attended by Scottish Cabinet Secretary for Transport, Infrastructure and Connectivity Michael Matheson, and representatives of Scottish Enterprise, Transport Scotland and CPT Scotland.
Colin Robertson said: "Customer collaboration is at the heart of what we do at ADL and we are proud to work with Lothian to meet their exacting requirements as they are renowned as a leader in delivering an outstanding customer experience. As a company headquartered in Scotland, building buses again for Edinburgh is a great source of pride for the employees at our Falkirk factory and we look forward to further developing our relationship with Lothian."
Nick Page, Managing Director of Volvo Bus UK, said: "The Volvo B8L is already a well-proven chassis in demanding environments in a number of cities in Asia Pacific. I am delighted and proud that long-standing customer Lothian has once again worked with Volvo Bus to bring further innovation to the streets of Edinburgh in the form of a high specification, high capacity double-decker bus. The new vehicles will help to reduce road congestion and with it further improve air quality, both of which are key to driving the quality of life in Scotland's capital city."
Richard Hall, Managing Director of Lothian, said: "Buses are the lifeblood of Edinburgh and the Lothians, transporting over 350,000 customers every day and are integral to the local economy. We are delighted to work with other businesses who share our passion for innovation with a commitment to deliver a high quality, reliable and unique product for our operations in Scotland, which could be utilised in the wider UK market.
Each vehicle can accommodate 31 standees alongside 100 seated passengers
"We look forward to continuing to build on our strong relationships with both Alexander Dennis and Volvo and are excited about the future of public transport in our country."
Scottish Cabinet Secretary for Transport, Infrastructure and Connectivity, Michael Matheson, said: "I am pleased that Lothian continues to invest in its bus fleet in partnership with ADL. These 42 brand new Euro VI vehicles will help improve air quality in Edinburgh and provide modern amenities, making an attractive offer to customers.
"The partnership with ADL is yet another success story for the business, who already enjoy an outstanding reputation as the world's largest double-decker bus manufacturer. Taking the bus is a more sustainable form of travel than taking the car, and I welcome today's announcement, which supports the Scottish Government's ambitions to encourage sustainable and lower carbon transportation across Scotland."