The government has published its commitments and the actions needed to decarbonise the entire transport system in the UK.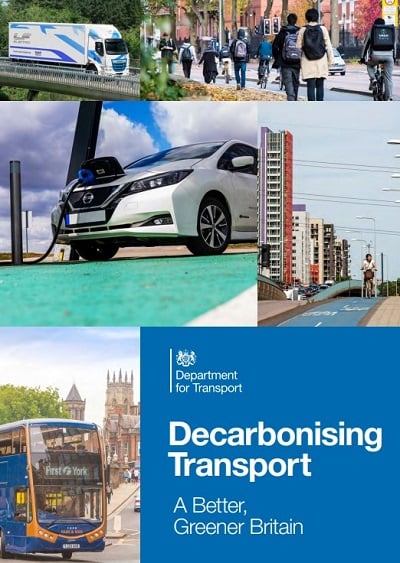 It includes:
the pathway to net zero transport in the UK
the wider benefits net zero transport can deliver
the principles that underpin its approach to delivering net zero transport
The plan follows on from Decarbonising transport: setting the challenge, published in March 2020, which laid out the scale of additional reductions needed to deliver transport's contribution to legally binding carbon budgets and delivering net zero by 2050.
The full Transport Decarbonisation Plan can be downloaded here.
The response from the industry has, on the whole, been positive, but there is an acknowledgement that much work, both on vehicle and infrastructure development will be required.
BVRLA Chief Executive Gerry Keaney,commented: "We welcome the publication of these plans, which provides a clearer picture of where we are and where we need to get to on the road to net zero. BVRLA members will play a vital role in this journey, enabling millions of individuals and businesses to embrace zero emission road transport and switch to more sustainable forms of mobility. There will be many important milestones along the way and we will continue to work with government and other stakeholders in achieving them."
"The plans being launched today show the Government's determination to deliver on its zero emission transport targets.
"The ambitious timescales involved in the phase-outs for the sale of polluting cars, vans and trucks leave little room for error. It is vital that the policymakers continue to engage with a wide cross-section of road users to understand the risks, challenges and opportunities that are being thrown up by this swift transition.
"Today's 'Greenprint' provides some essential clarity and certainty for road users, but there are still major questions that need answering, including what longer-term plans the Government has for motoring taxation."
Jon Lawes, Managing Director of Hitachi Capital Vehicle Solutions, commented: "Whilst it's positive that the Government's Transport Decarbonisation Plan has committed to phase out dates for all non-zero emission road vehicles, we must follow through with robust policies, such as the potential ZEV mandate, to ensure that the automotive industry meets these targets and the rising demand for ZEVs from businesses and consumers.
"With manufacturing initiatives such as Stellantis' announcement that its first dedicated EV factory in Europe will be at Ellesmere Port, the UK is in a strong position to significantly ramp up its EV production in the coming years. Introducing a ZEV mandate would be a milestone policy to encourage all manufacturers to consider their vehicle output and establish ambitious strategies to phase out petrol and diesel vehicles."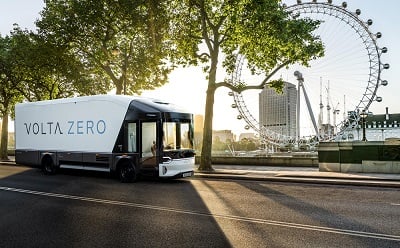 Volta Trucks, a leading and disruptive full-electric commercial vehicle manufacturer and services provider, has issued a guarded welcome to the publication of the UK Government's Transport Decarbonisation Plan, but has called for a greater level of ambition to tackle the climate and air quality emergency faced by the environment.
Chief Executive Officer of Volta Trucks, Essa Al-Saleh, said; "The publication of the UK Government's Transport Decarbonisation Plan is welcome because it gives British fleet operators and buyers a level of certainty that didn't previously exist. That said, the ban on internal combustion engine trucks by 2040 is nearly 20 years away, and today's climate emergency cannot wait. Trucks account for less than 2% of road vehicles but 22% of CO2 emissions from road transport, and the relative share of truck emissions is certain to increase as emissions from passenger cars are driven downwards by the surge in the sales of electric cars.
"It's therefore disappointing that the UK Government hasn't been as ambitious as the French authorities, for example, who have banned diesel engine trucks from the streets of Paris and other large city centres by the end of 2023. This type of progressive legislation, twinned with incentives, is what's needed to accelerate the migration to zero emission large commercial vehicles. The Volta Zero is the first purpose-built full electric large commercial vehicle designed specifically for logistics within city centres where air quality is at its worst. We will begin customer trials in London and Paris next year ahead of the start of full-scale production by the end of 2022. This will ensure we can meet our customer's demands, and the needs of the wider population, to have full-electric zero emission commercial vehicles available in the market as soon as possible."
David Watson, CEO and Founder of Ohme said: "We are pleased that the Government has recognised the critical role played by smart charging technology to underpin a successful decarbonisation programme. Legislation to ensure all private EV chargepoints meet smart charging standards is a step in the right direction, but simply declaring something as 'smart' isn't enough.
"To ensure these technologies are adopted at scale, we need to see a holistic approach to smart charging to manage the spikes in demand due to mass EV adoption. This must include incentives for consumers, businesses and fleets, in addition to education and awareness campaigns, and greater collaboration between government, energy companies and clean tech companies.
"Smart charging technologies bring down the cost and complexity of electric vehicle charging and help to balance the National Grid. Without a concerted and holistic effort to encourage adoption, we risk undermining the success of the EV transition in the UK."
Jon Dye, Director of Motor at QBE Insurance comments "This is an expansive plan of consultations with the potential to redefine road transport as we know it. From an insurance and risk management perspective, whilst we have seen electric powered vehicles drive an increase in the complexity and cost to repair vehicles, what powers a vehicle matters relatively little compared to how and where the vehicle is driven. While these plans are undoubtedly ambitious and in many respects pose more questions than they answer right now, the biggest upheaval in road transport remains the shift towards autonomous vehicles. I do anticipate however that progress towards truly autonomous vehicles will be paced with the phasing out of the more traditional 'internal combustion engine'.  Both require a different source of energy and an infrastructure very unlike the one we have now."
James Lancaster, Chair of the Urban Mobility Partnership said: "We welcome the Government's ambitious plans outlined the Transport Decarbonisation Plan and welcome the strong commitments to encourage modal shifts away from single occupancy private car. We particularly welcome the recognition that all modes have a role to play in our future transport systems and in order to decarbonise the transport sector different modes must work together to develop solutions.
"We are delighted that the government has also recognised the role of shared car use in reaching our net zero goals, car clubs and daily rental will be a vital part of supporting public transport, active travel and micromobility solutions as we move into a new era.
"The release of today's strategy presents the opportunity to have a transformative impact on the way we move around and the government's focus on multi-modal solutions and we commend the government in taking an approach that is open to all technologies and modes.
"The Government's commitment to supporting transport providers in the development of communications campaigns is particularly vital at this time in the wake of the Covid-19 pandemic and it is vital that we work to maintain the growth of active travel but also see campaigns which encourage the uptake of public and shared transport solutions at a time when consumers will inevitably be hesitant. We encourage the Government to bring this forward with speed and to work with multi-modal partnerships which can deliver these vital messages."
Charlie Jardine, the CEO and Founder of EO, comments: "The plan is light on new detail about public transport – it's vital that the Government's promised subsidies for bus companies to invest in electric vehicles are delivered quickly. The bus sector has been ravaged more than most by the pandemic and for it to 'build back better' and decarbonise, it needs government investment to materialise at pace.
"The idea of introducing a minimum percentage of electric vehicles produced by carmakers is positive. As is the proposal to end the sale of combustion heavy goods vehicles and buses by 2040. However, moves to increase production of electric vehicles must be matched by the pace of the charging infrastructure roll-out. You wouldn't build trains before the track, and for people and businesses to buy electric vehicles they will want total confidence in a national network of charge points.
"The Climate Change Committee has set the government the target of installing 120,000 charge points by 2025 to match demand for EVs, and we're only estimated to be 15% of the way there.
"The pace of this rollout is vital for businesses as well as consumers. Business vehicles account for 59% of traffic on UK roads and we know from our own experience that companies are progressing electrification plans at pace. That said, it's crucial that the increasing number of EV drivers on the roads have a seamless charging experience and that goods and people can move about freely. For this to happen, the roll-out of public charge points needs to be fast and incentives for the installation of private charging infrastructure need to be potent."
Asher Bennett, Founder and CEO of Tevva, commented: "The government's proposal to ban the sale of smaller diesel trucks from 2035 and larger ones from 2040 as part of its Transport Decarbonisation Plan is the right course of action given that heavy goods vehicles (HGVs) account for around 18% of road transport emissions in the UK.
However, it is now critical for investors and government to back electric truck solutions which meet the unique needs of fleet operators in an economically viable way.  Unlike cars, which are used on average for 1.5 hours per day and buses that run on dedicated routes, freight trucks face different challenges when it comes to electrification, such as the requirement to work 8-12 hours per day across varied routes, environments and distances. Not every electric truck manufacturer on the market has considered this requirement, creating a potentially expensive problem for fleet operators further down the line."
Andy Eastlake, Chief Executive, Zemo Partnership, welcoming the publication of the Transport Decarbonisation Plan and complementary package of documents and consultations says: "The clear commitment to move all our road vehicles to zero emissions is critical, but even more important is the appetite to think differently about how this can be delivered.
"Transport is perhaps one of the most emotive and complex areas of our lives and society, but zero tailpipe emission transport technology is already here.
"How we make this the default everywhere while also reducing overall demand for energy and other resources is the real challenge.
"It's therefore encouraging to see that the plan considers fiscal, behavioural, digital and other policy options as the exciting technology and energy revolutions gather pace.  How effectively we can work collaboratively across sectors to bring all these together will be a true test of success of this plan."
"The Plan is wide-ranging and detailed, encompassing a plethora of approaches and opening a range of questions and consultations about transport decarbonisation.
"Zemo Partnership will be working the widest range of stakeholders to deliver our new 2021 'acceleration programme' of key projects and new initiatives, aligning our activities with the Government's Plan."
Philip Fjeld, CEO of CNG Fuels said: "Cutting emissions from heavy good vehicles is critical for meeting net zero targets. We believe renewable and sustainably sourced biomethane compressed natural gas (CNG) as a road fuel will play the predominant role in meeting the targets for cutting emissions from HGVs. The technology is ready for mass-adoption now and our network of refuelling stations is already providing thousands of HGVs across the country with cleaner, quieter and cheaper fuel, cutting emissions by 85-90% and costs by 45%."
CNG Fuels is the UK market leader for the supply of Bio-CNG (renewable and sustainable biomethane fuel) for commercial vehicles. Its gas is sourced entirely from renewable and sustainable biomethane, which is cheaper and emits less carbon well-to-wheel than any other HGV fuel. The biomethane is made from waste feedstock, approved under the Renewable Transport Fuel Obligation (RTFO).
CNG Fuels is the country's only dedicated provider of public access Bio-CNG refuelling infrastructure, and operates the UK's six highest capacity CNG stations.
Isaac Occhipinti, Director of External Affairs, GVN said: "We welcome the Government's proposal to end the sale of diesel polluting HGVs given their disproportionately high rate of emissions and the associated impacts on air quality due to air pollutants. However, we are concerned that an unintended consequence of this policy is that it will also encompass HGVs potentially running on biomethane, a renewable fuel produced 100% from waste that can already be certified as carbon neutral. Banning a carbon neutral fuel which is available 30 years in advance of the UK's net zero target would be a highly retrograde step which will not deliver on the overarching ambitious aims of the Transport Decarbonisation Plan."
Industry statistics show that use of biomethane as a transport fuel is growing rapidly in this sector. In 2020, 93% of the total gas fuel dispensed for HGVs was in fact renewable biomethane. The latest Government's Renewable Transport Fuel Obligation [RTFO] stats show that biomethane used in HGVs was up from 80% in 2019, an increase of over 16% in a year. This also follows a 78% increase in sales of renewable gas as a transport fuel during 2020.
Isaac Occhipinti added: "Mr Shapps recognises that 'Cleaner transport will create and support highly skilled jobs, with the production of zero emission road vehicles alone having the potential to support tens of thousands of jobs in the UK'. Renewable gas as a transport fuel is evidently already creating jobs as the industry is already well established.  Not only is biomethane reducing carbon emissions today it is also capable of transporting the UK to Net Zero 2050. Rather than banning a successful, 'no regrets' carbon neutral fuel available now and gambling on as-of-yet 'undeveloped alternatives', the Transport Secretary should back biomethane well beyond 2040."