The cost of using public rapid and ultra-rapid chargers has risen by 50% since May, according to new data from RAC Charge Watch. The motoring group behind the research is concerned that unless the cost of public charge points comes down, it could make those looking to switch to EVs think twice about investing in a new vehicle.
While these figures are predominantly aimed at the car market, concerns about rising costs are just as pressing for those who manage commercial vehicle fleets. It's just one of the many issues being addressed by fleets managers as they explore their EV options.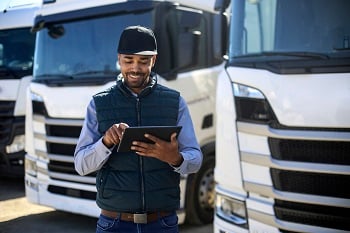 There are some early adopters, such as Royal Mail, that are already well advanced in the EV transition journey, committing to replacing thousands of petrol and diesel vehicles with EV equivalents. Others, though, are still on the starting line.
Either way, savyy fleet managers are quickly discovering that the shift to EVs cannot be done without data-gathering telematics platforms. That's because access to data turns the decision-making process from a hunch to something based on evidence. Data allows decisions about EVs, routes and investment lifecycles to be made based on fact, not guesswork.
As one senior manager explained to me recently: "We're aiming to make our entire fleet electric by the end of the decade. But we can't do this properly without being able to assess individual vehicle performance and how this fits into our business.
"Before the availability of data, we'd have just handed a vehicle to one of the drivers, charged it up and told them to let us know how they get on."
Connected telematics provides useful data
But because his firm uses smart telematics and connected software, he has access to data on individual vehicle performance — such as miles covered per charge, charging times, and wear and tear — to help him make informed decisions.
"Now, we can use that data to assess different vehicles working on different routes and in different conditions," he told me. "We've only just started but what's clear is that it doesn't take long to build up a picture of your fleet — what works, and what doesn't — based on key criteria. And that data is vital as we start to build our EV vehicle strategy."
It goes without saying that the data required to help make these decisions is derived from smart, connected telematics systems that offer more than just dashcams or GPS tracking.
Such platforms are connected not just to the internet via mobile communication, for example, so that data is available in real-time, but they also connect different aspects of a fleet — maintenance, fuel efficiency, route planning and safety, for example — to provide a complete picture.
Such technology already exists for ICE fleets. But these solutions have now been adapted specifically for EVs including real-time charging status and alerts for each vehicle to combat charge anxiety; route planning to make certain that vehicles have enough battery charge to get the job done; access to the nearest charge points if needed; and fuel and energy usage reports to ensure that vehicles — be they electric, or plug-in hybrids — are being used effectively.
Data provides real fleet management insights
What's more, fleets with an integrated data telematics platform can operate their ICE and EVs side by side making it even easier to compare performance. And since mixed fuel fleets are likely to be with us for some time, it ensures fleets continue to operate without any disruption to the business.
And that includes making sure drivers don't run out of charge when they're out on the road. By being connected to the vehicle, fleet managers know the EV charging status of every single vehicle on the road at any given time – day or night. In effect, they have access to the same dashboard information as drivers.
Combined with route planning software, managers will know in an instant whether an EV is able to stay on the road or whether it needs to stop for an unscheduled charge. By using real-time data and smart technology, the headache of figuring out when's best to pull over to recharge is no longer a guess. Instead, it's based on battery status in relation to the planned route and nearby charge points. And to gain maximum efficiency, it could even be set up to coordinate charging with driver breaks.
Either way, it gives both drivers and fleet managers the reassurance they are not alone.
Using this data to constantly monitor a vehicle's state of charge allows managers to prevent vehicles with a low charge from running out of energy or being "bricked." And in the event of an unplanned stop to recharge, the software automatically selects the nearest and most efficient charge points.
In other words, using data to monitor EV charge levels to add optimal charging stops in the drivers' route is essential for reducing range anxiety and ultimately keeping your operations running smoothly.
Vehicle data collected while out on the road can also promote EV-friendly driving by identifying those who drive too aggressively. By using this data to encourage smoother driving with minimal harsh braking and accelerating, it can help maximise the battery charge of an EV.
We may not be at the end of the road for ICE vehicles just yet. But as we edge ever closer to the cut-off date, the role that data plays is not just becoming increasingly important. It's pivotal. In fact, modern fleets cannot survive long-term without data.  One thing is for sure, in the future, fleets won't just be powered by electricity. They'll be powered by data too.
---
Author: Philip van der Wilt, VP EMEA, Samsara