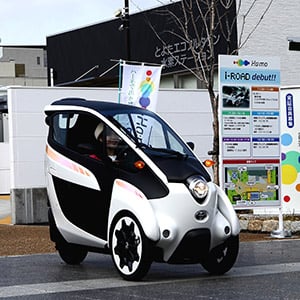 TRIAL: i-Road heads to Europe this year
Toyota's ultra-compact i-Road electric three-wheeled 'personal mobility vehicle' has hit Toyko's streets in its first public trial.
The vehicle will now undergo consumer testing until early June, with ten of the single-seater i-Roads taking to the city's roads to discover how it fares in real-world conditions.
Twenty people are involved in the programme, with participants ranging from industry experts to members of the general public.
The vehicles are based on the concept versions shown at last year's Tokyo Motor Show, but with adjustments to improve visibility, ease of use and manoeuvrability.
Its compact, slim shape and 300kg kerb weight make i-Road as nimble to handle in traffic as a scooter, but offers car-like stability.
The i-Road is also coming to Europe this year, with two-seater models set to take part in a vehicle sharing programme that will operate in Grenoble, France until 2017.