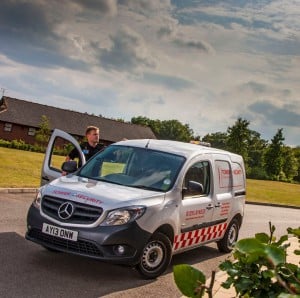 FIGHT: Tower reaping long-term benefits of Citan
Essex-based Tower Security are patrolling clients' premises and homes with a new Mercedes-Benz Citan, after low running costs sealed the deal.
Tower Security nabbed the long-bodied 90hp Citan 109CDI BlueEFFICIENCY after comparing its servicing costs and warranty to those of a similar-sized van by a rival manufacturer.
It will average 100,000miles a year, making routine checks and responding to alarm calls.
Miles Hill, Managing Director of Tower Security, said: "We were on the verge of buying another make of van which was a bit cheaper 'up front' – until I asked for a price to cover three years' servicing.
"Because of the high mileage we cover it was hugely expensive, and the vehicle would have been out of warranty after the first year.
"By contrast, the Citan's servicing costs from Colchester dealer Orwell Truck & Van were very competitive.
"And it came with a three-year, unlimited mileage warranty, which says a great deal about the confidence that Mercedes-Benz has in its product.
"The manufacturer's warranty was worth the purchase price premium on its own.
"But once we'd also factored in the Citan's servicing costs and fuel efficiency it really was an easy decision – our new Mercedes-Benz will save us a fortune in the long run."
Tower Security offer a fully-manned and comprehensive service, including everything from key holding to static guards, dog handlers, and event security.
Their uniformed staff protect the premises of commercial clients, as well as schools and colleges, council offices, leisure centres and private homes throughout Essex, Suffolk and Greater London.
The Mercedes-Benz Citan manages a market-leading economy figure of up to 65.7mpg and CO2 emissions as low as 112g/km.
"The Citan is using a lot less fuel than our other vans and represents a huge step forward for us in terms of quality," Mr Hill added.
"Mercedes-Benz also has a great brand image and our new van looks a lot more professional when we're visiting clients' premises."