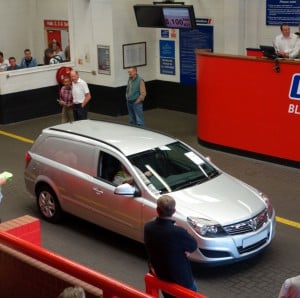 RECORD: Fleet and lease values at all-time high
Record sale values for fleet and lease vehicles were achieved in August, with the average LCV pulling in £6,214 and the average car claiming £8,898.
British Car Auctions' (BCA) Pulse report found that last month, LCV values in the fleet and lease sector climbed by £432 to the record figure.
August also saw the largest-ever year-on-year value differential in the sector – up by £1,370 (28.2%) compared to the same month in 2012.
Average age and mileage also decreased.
While performance against CAP improved by two points to 102.99%, retained value against Manufacturer Recommended Price (MRP) fell back half a point to 36.12%.
Despite this, retained value against MRP has improved 5.5 points over the course of the year.
The superb performance reflected an exceptionally-strong month overall for light commercial vehicles, with an average August figure of £5,013.
Remarketed cars also enjoyed a great month, with values across the board averaging £7,037.
Duncan Ward, General Manager of Commercial Vehicles at BCA, said: "Average values have been substantially stronger over the summer holiday period than we might have expected, given that anecdotal reports suggest van retailers have been relatively quiet.
"However, the key factor driving the market is supply of good retail quality stock – or rather the lack of it – and this means there is plenty of competition for the best examples reaching the market.
"Demand has been right across the board during August, from older higher mileage vans through to younger ex-fleet and lease vehicles, while the few late-plate light commercials on offer can make exceptional values.
"As always, good condition is the key and vans with a nice specification and in an attractive retail colour are very desirable.
"The outlook for September is more of the same, as stock remains in very short supply and, with retail LCV activity expected to pick up during the month, the market is experiencing a double whammy.
"BCA has already recorded some exceptional results in light commercial sales during the early days of September, so there is every chance that average values could climb yet again this month."
Tim Naylor, Editor of the BCA Pulse Report, added: "Traditionally, the summer months have often been quieter in terms of buying in the wholesale market but post-recession this element of seasonality has disappeared.
"August provided another strong performance in the used car market, as professional buyers competed strongly for stock.
"Longer term, economic confidence is the key factor going forward for the used car sector.
"Recent indicators suggest the economy is improving and this may tempt even more retail buyers to consider changing their current vehicle for a 'newer' used car.
"There will always be activity in the used car market caused by changes in lifestyle – the growing family, a young driver passing the driving test, a windfall purchase – but we must not lose sight of the fact that many families continue to struggle with rising costs while wages are falling in real terms."