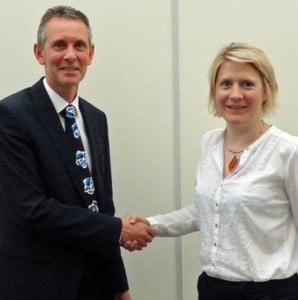 DEAL: Paul Chater and Lynette Brown
Vertivia are providing mileage management for Sealed Air's UK 430-strong company car fleet, it has been revealed.
The mileage capture specialists have been tracking the UK fleet of the food safety and security, facility and hygiene and product protection company since April.
Sealed Air, who have around 25,000 employees worldwide, wanted to fully-automate their mileage capture process, following a change of requirement.
The global leader wanted to make it easier for their company car drivers to accurately record their business mileages.
Vertivia were able to backload three months' supply of driver mileage claims and get the process fully up-to-date in a very short space of time.
This meant that full year reporting of the Sealed Air fleet's total mileage became possible.
Lynette Brown, European HR Director, UK and Ireland, at Sealed Air, said: "We were very impressed with the speed and ease with which Vertivia implemented its mileage management system for our company car drivers.
"This allowed us to fully automate the mileage capture process across our fleet and produce a much more accurate record and reconciliation of our drivers' business mileages."
The Vertivia mileage management technology works by mapping distances between postcodes, which allows business mileages to be calculated automatically.
Regular destinations can be saved and reused by drivers as required.
The company recently released version 3.0 of the system with a number of major enhancements, including additional functionality for the system's core reporting capability.
Paul Chater, Sales Director at Vertivia, added: "We are delighted that Sealed Air has opted to use our mileage capture system.
"Our system is winning widespread approval amongst fleet users as it provides a completely accurate record of their drivers' business miles, which forms the basis of accurate mileage reclaim and total mileage calculations.
"The system can also provide improved HMRC compliance and detailed data breakdowns so the fleet can be managed more effectively.
"The result is typically a drop in fuel costs and also in carbon emissions."