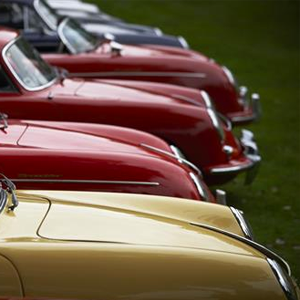 Porsche Club GB is delighted to announce the return of 'Classics at the Castle' a celebration of KG badged Porsches set within the spectacular grounds of Hedingham Castle on Sunday 3 September 2017.
'Classics at the Castle' is Europe's largest classic Porsche gathering. You don't need to be a club member, or have a Porsche to attend – the family friendly event is open to all motoring enthusiasts, plus children under 12 years old go free.
An integral part of the event is the iconic display of pre 74 (KG badged Porsches) which has been at the heart of the show for over 10 years and is always a crowd pleaser. This year to commemorate the 50th anniversary of the 911S, the Castle driveway will feature a static display of 50 examples, set out in chronological order. It promises to be one of the most complete line-ups of the 911S showcasing all the models in the 'S' production spectrum, including those built in the Porsche AG period until the 'S' designation was deleted. Several notable vehicles confirmed include two rare right-hand-drive S models from 1967– 2.2-litre 'S' and 'S' Sport and the ex Vic Elford 2.4-litre car.
Each year the esteemed judges' award 'Star Car of the Day' based on rarity, originality or interesting history and 'Trade Stand Award' for best presentation and crowd appeal.
The Porsche Paddock provides designated parking for all modern Porsches models built post 1973, providing a great opportunity to show off your 356, 911, 912, 914 and RS Carrera's.
Aside from the large displays of classic and modern Porsches, there is an abundance of trade stands and food vendors, plus the opportunity to explore the magnificent Castle and grounds. Built in around 1140, Hedingham Castle has welcomed many royal visitors including King Henry VII, King Henry VIII and Queen Elizabeth I. The magnificent Banqueting Hall and Minstrel's Gallery will be open to visitors, the upper windows provide phenomenal aerial views of the event and surrounding countryside.