Jaguar XF Voted New Car Of The Year
By Kyle Lindsay
Thursday, June 15, 2017 - 15:30
Comments (0)
The new Jaguar XF has been announced as Auto Trader's New Car of the Year following a survey of 10,000 new car owners and Auto Trader users. This latest award – the 9th major UK title since launch – cements the XF as a favourite among the most important people in the motoring industry: the car-buying public.
Exactly 10 years on from the debut of the XF model name, the latest Jaguar XF boasts a lightweight aluminium construction which, coupled with the all-aluminium engine family, sets the class benchmark for handling, fuel efficiency and emissions.
Powertrains include a 2.0-litre Ingenium diesel engine with outputs of 163PS or 180PS. The 163PS 2.0-litre Ingenium diesel boasts emissions from just 104g/km and 70.6mpg on the combined cycle and drives the rear wheels through a six-speed manual gearbox. A range-topping supercharged 3.0-litre V6 diesel offers thrilling performance, producing 516lb ft (700Nm) of torque.
Jeremy Hicks, Jaguar Land Rover UK MD, said: "We're extremely proud of any award for our products, but this latest Auto Trader Car of the Year title for the Jaguar XF is a real highlight. Voted for by 10,000 members of the UK car-buying public, it's a clear indication that we're producing cars that speak to everything modern drivers are looking for. That was always our target with the XF – we wanted it to be capable of everything without compromise; stylish, dynamic, luxurious, comfortable and affordable to run. I'm extremely pleased to see that car buyers agree we've succeeded."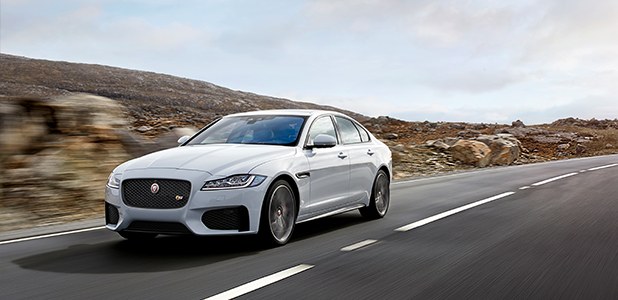 Andy Pringle, Auto Trader Cars Editor, said: "The Jaguar XF, our New Car of the Year Award winner, scored exceptionally well when it came to owner satisfaction, proving it's truly admired by XF buyers when considering factors such as; safety, comfort, features and accessories and power. The Auto Trader New Car Awards prides itself on making new car accolades easier and simpler to understand for car buyers, and there's no easier way to describe the Jaguar XF than officially the UK's most satisfying car to own."

Yesterday, Jaguar also welcomed the new XF Sportbrake, returning to the premium estate segment with a compelling combination of Jaguar design, driving dynamics and advanced technologies that make it the standout performer in its class.
The XF Sportbrake sets new standards for practicality and convenience with user-friendly features and technologies that make every trip safer, smarter and more relaxed. Its combination of space and efficiency make the Sportbrake the perfect companion for customers with active lifestyles. The new Jaguar XF Sportbrake is available to order now, priced from £34,910 OTR.
Related Stories