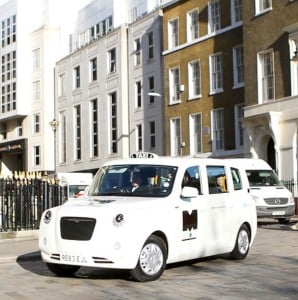 REVEALED: Metrocab is launched
Frazer-Nash and Ecotive have revealed the full specification of the all-new purpose-built Range Extended Electric (REE) Metrocab taxi, ahead of this week's trial launch.
British-built, the 75mpg vehicle is a new-generation zero-emissions electric-power taxi for London, and more than three times more fuel efficient than the comparable current model.
It also boasts a 75% CO2 emissions cut compared to the current London taxi, at less than 50g/km, and a 560km combined range.
The figures, Metrocab claim, mean the typical London cabbie could save £30-£40 per day.
It has been in development for ten years, covering more than a million engineering test kilometres, and is fully-compliant with London Public Carriage Office (PCO) regulations.
Sir Charles Masefield, Chairman of Metrocab, said: "Instantly recognisable as an iconic London Hackney Cab, with a panoramic glass roof for views of the city, our new all-British London cab offers, for no price premium, completely new levels of economy, emissions and passenger comfort and is ready to enter service this year, benefitting the passenger, driver, city and environment alike."
Metrocab are inviting London taxi drivers to register for real-world trials, before it is rolled out across other key cities in the UK and internationally.
Standard specification on the vehicle includes digital infotainment system, hands-free telephone, air conditioning, passenger TV display and mood lighting.