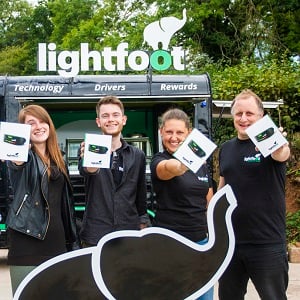 Lightfoot, the connected car technology that rewards better driving in fleets, is being launched to the general public for the first time this month. The device, which has been described as "the Fitbit for cars", will be on sale at Halfords in Exeter for just £99 during September, before rolling out nationally and, ultimately, globally.
Lightfoot considers the refinement of its technology and rewards platform in the fleet sector – where it has been widely used by household names including Boots, Alliance Healthcare and Virgin – to have played a major part in preparing the product for its launch to the wider public.
Having seen the impact of rewards-based driver technology in the fleet sector, helping customers to reduce fuel costs by up to 20%, harmful emissions by 20-30%, and at-fault accidents by up to 60%, Lightfoot is taking its focus on rewarding better driving to the next level with its new consumer product.
Created to make smooth driving fun and rewarding, Lightfoot's consumer product incentivises a safer, more efficient driving style with perks typically worth £773.50 per year. Benefits include 40% off AA breakdown cover, 20% off car insurance and 15% off services at Service Stop, all in recognition of the cleaner, greener, safer drivers who make up the Lightfoot community.
Lightfoot's high-tech analytics and in-cab feedback, not dissimilar from the technology used in Formula 1, guides drivers to maintain a driving style that keeps their engine running in its 'sweet spot' – where it uses the least fuel, emits the least pollution, and is at its happiest. Lightfoot users who follow the in-cab feedback and score above 85% for their smooth driving achieve 'Elite Driver' status. Elite Drivers participate in leagues and weekly prize competitions in which they can win rewards ranging from track days with Nigel Mansell and trips to Paris, to wireless speakers and cinema tickets.
Mark Roberts, Lightfoot's founder and CEO, said: "We're on a mission to change the way people think about driving.  We've kicked the Orwellian tactics of old-school telematics into touch and disrupted the way fleets view their drivers and duty of care. Now, we're taking the next step in rewriting the relationship between driver and vehicle by expanding our offering to private drivers. To start it all in our hometown of Exeter – where it all began for us – is the perfect way to pay back the place that has given us so much support over the years."
"Our plan is to roll the consumer product out across the UK within the next year. We want to enable everyone – be they fleet drivers who use Lightfoot at work, their friends and family, or anyone else on the road – to benefit from genuinely rewarding driving that is good for their wallets and the planet."
"It sounds like a pipedream, but we've seen the results first-hand and we know that drivers can make all of this happen. Empowering people to make positive changes is the way forward and, once you add all the savings and personal benefits, driving with Lightfoot becomes a no-brainer. We genuinely believe Lightfoot can be a force for good in the world."
Lightfoot's devices come with a subscription option costing £3.99 per month, which unlocks more than 100 discounts on major national brands including adidas, Nike, Currys PCWorld, ASOS, Deliveroo, Virgin Holidays, B&Q, Argos, M&S, EE, Halfords and Bill's.
From October, as Lightfoot is launched in more Halfords stores, Lightfoot will cost £129, with a fitting fee of £30 and a monthly subscription of £3.99.