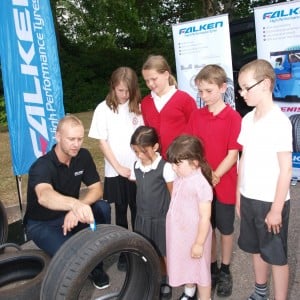 JOINED: Falken sign up to TyreSafe
Falken Tyre Europe Gmbh are the latest high-profile manufacturer to join TyreSafe.
The company were inspired to join after a safety survey at a primary school found more than 30% of the parents' cars had illegal tyres.
Falken will now enjoy access to a range of campaign materials, as well as early access to campaign themes to co-ordinate with their own activities.
Stuart Jackson, Chairman of TyreSafe, said: "It's fantastic news to welcome Falken to the TyreSafe nest thanks to the sterling work they're already doing.
"Although alarming, unfortunately I don't think the results from Falken's primary school tyre safety survey are unusual.
"It goes to show that joining TyreSafe and helping us spread the tyre safety message is vitally important work."
Since their inception in 2006, TyreSafe's activities have helped reduce the number of people killed or seriously injured in a tyre-related accident by 30%.
Supporters include tyre retailers, manufacturers and wholesalers, plus vehicle manufacturers and other associated equipment suppliers.
Matt Smith, Director for UK and Ireland at Falken, added: "Falken places tyre safety at the centre of everything it does and while we're making a difference ourselves with such initiatives as our school tyre safety survey, there's no doubt that joining TyreSafe will give added weight to our activity."