DS Virgin Racing Set To Boost Points In Berlin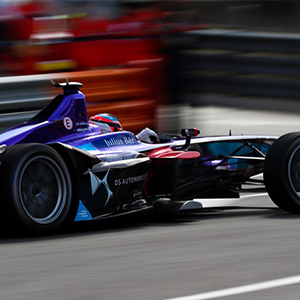 DS Virgin Racing heads to Berlin for the seventh and eighth rounds of the all-electric 2016/2017 FIA Formula E Championship next weekend, ready to maximise their points tally after a podium finish in Paris and fastest laps scored from recent races.
The race in the German capital returns to the Tempelhof Airport for a double-header weekend on 10-11 June. The former airport was used as the location for the inaugural Berlin ePrix in 2015, and returns with a new fast-flowing 1.4-mile (2.27km), 10-turn layout, which is sure to deliver great racing as the cars reach speeds of up to 124 mph (200kph).
In addition, one of the unique aspects of the weekend will be the use of two different race distances – with 44 laps on Saturday and 46 on Sunday – designed to give the teams and drivers an extra element of strategy to contend with.
For DS Virgin Racing, the team is keen to continue their success from last time out in Paris where they picked up their third podium of the season and the first for Argentinian driver Jose Maria Lopez – who continues to gain confidence in his DSV-02 single-seater all-electric race car.
Lopez commented: "As a team we're expecting to get a good result in Berlin. We showed in Paris, and the previous races, that the potential of the car is there and it's possible to achieve a good result if we manage to have a clean weekend like I did in Paris, so we will be working hard to do that. This is a new track for many drivers, including myself, and this could help me. I really hope this will give me the opportunity to be even more competitive and to achieve another strong result."
The sixth round of the championship was also not pointless for Sam Bird who finished the race with the second consecutive fastest lap. Bird said: "The last couple of races have been difficult for us on my side of the garage but we've had two fastest laps which shows the speed is very much there, and I believe that if we continue to work in a good way the results will come in Berlin."
Currently, DS Virgin Racing is in fourth position in the team standings with 63 points, with Bird and Lopez in seventh and ninth positions respectively in the driver standings.
Team Principal Alex Tai commented: "The team did a fantastic job in Paris. We head to Berlin off the back of a first podium for Lopez and two fastest laps for Bird. I have no doubt that we can carry this momentum into the first double-header weekend of the season and to turn podiums into wins."
DS Performance Director Xavier Mestelan Pinon added: "We are now in the middle of the season. We know a lot of points are still to be taken with remaining double-headers. The promising race we achieved in Paris is the result of good improvements we made on the DSV-02 during the recent testing sessions and the better understanding of the use of the car. The technical team began working on the Berlin circuit as soon as they returned to Paris as the simulator is particularly important to prepare for two different races in terms of energy management on the same track. All of the team is particularly busy and concentrated at the moment, with this crucial chain of events."
Related Stories