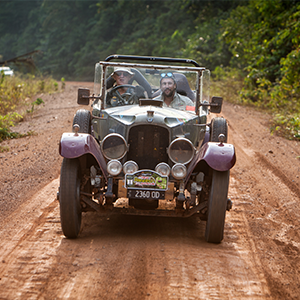 The inaugural Slartibartfast road trip is being organised by Bespoke Rallies, one of the leading specialists in such long distance motoring events. A two-week rally, it will allow competitors to experience the very best of Denmark, Sweden, Finland and the Norwegian fjords, following a start at the highly-acclaimed Louwman motor museum, The Hague, Holland.
Named in honor of the character that designed the Norwegian fjords in the 1980s comedy SCFI series Hitchhiker's Guide to the Galaxy, the Slartibartfast is aimed at owners of the period or modern classic cars and will take place between August 23 and September 7 this year.
From Holland, it heads north through Denmark, Sweden, and Finland to Kirkenes; one of the most northerly ports in the Arctic circle, renowned for its views of the Aurora Borealis. From there it takes to the 35-car Hurtigruten ferry MS Midnatsol and follows 'the lovely crinkly bits' (as the fjords were described in The Hitchhiker's Guide) all the way down the west coast to Bergen.
Far from simply enjoying the views from the ship, competitors will disembark each morning and rally their way through the stunning scenery before catching up with their floating hotel each evening.
Said Bespoke Rallies Director John Brigden: "This is a completely unique event that will allow participants to enjoy Scandinavia in a way they would never have imagined possible. The final drive will comprise a blast along the famous Atlantic Road – unquestionably one of the world's most incredible motoring experiences."
Other great events already scheduled by Bespoke Rallies include:
–  Cuba Classic Rally – January 2018
–  The 3rd Maya Classic Rally – February 2018
–  The Highland 1000 – May 2018
–  The Pyrenees 1000 – September 2018
–  The Grand Prix of South America – October 2018
–  Wild Borneo – May 2019
–  Magical Madagascar – June 2019