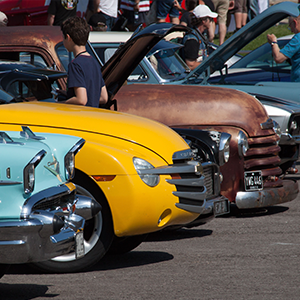 Scores of awesome machines rolled into Beaulieu on Father's Day weekend for two packed events, with 600 incredible customised cars and bikes at Sunday's Hot Rod & Custom Drive-In Day and 490 Volkswagens of every age and model for Saturday's Simply VW.
More than 6,000 show-goers immersed themselves in the cars, bikes, music and fashions of the custom world for Hot Rod & Custom Drive-In Day, which was held in association with classic American car club Solent Renegades.
Every variation of modified machine was on display in the jaw-dropping line-up. Sleek cruisers with smooth bodywork and 'slammed' suspension rubbed shoulders with rusty rat rods, mammoth-engine 'gassers', tuned American classics and incredible chopper bikes.
Among the special machines on display was The Alchemist, a supercharged Ford coupe-based gasser which is well known in the custom scene. While visitors also loved the Batmobile recreation which shot flames from its huge exhaust in a special demonstration.
For retro shopping on both days of the weekend, Vintage Village created by Bows & Braces sold vintage clothes and jewellery from the 1920s to 1980s, nostalgic home decoration, luggage, records and maps. Live music on the entertainment stage kept everyone's feet tapping, while Jitterbug Jive and the Bournemouth Lindy Hop Club gave demonstrations and took event-goers through their steps.
The Father's Day weekend was also the first opportunity to see Automotive Steampunk exhibits in the National Motor Museum, with imaginative costumes created by Arts University Bournemouth students to complement some of the most iconic vehicles in the collection, as part of the Keep Calm and STEAM Ahead project supported by the Arts Council England Designation Development Fund. Many show-goers entered into the steampunk spirit with their own amazing outfits, while there was steampunk storytelling for younger children in the Corporate Marquee.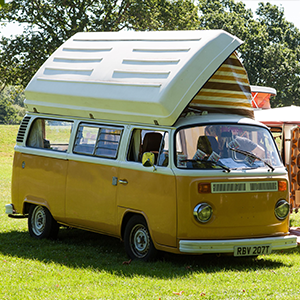 Lord Montagu presented special awards to the owners of some of the most eye-catching and popular vehicles of the day, each receiving a commemorative Beaulieu trophy and a special Autoglym prize. Mark Hanna, from Billericay, received the coveted Best in Show award for his exceptional Ford Popular fitted with a Chevrolet engine, which he has owned for 35 years. Another prize-winning Ford Popular was the Best Hot Rod which Roland Bunn, from Kent, had spent 18 years building.
Winning the Best Custom award was John Gregory, from Romsey, for his 1941 Chevrolet 350. Bought as a wreck just 18 months ago and imported from California, John has worked tirelessly to build this stunning machine. "It's just beautiful to drive," he said from behind the wheel.
The Best Bike award went to the 1200cc Harley-Davidson Chopper belonging to Joe Cross, from Southampton, which he has owned for just three weeks. Despite the exceptionally high handlebars requiring quite a stretch, Joe loves riding his cool machine on the roads.
The award for the Best American car, presented by Lord Montagu and Solent Renegades, went to the Michael Nash, from Swindon, for his Dodge Coronet muscle car. Voted for by show-goers throughout the day, the People's Choice Award went to Brian Davison, from Portsmouth, for his daily-driven Chevrolet 'stepside' pick-up.
Hard Up Garage proved a popular addition to this year's show with a display of outrageous hot rods. They presented their own special trophy, made the night before using left-over car parts, to the Hard Up Garage car of the show, which was the Rambler station wagon owned by Luke Price, from Dorking.
Vintage Village creators Bows & Braces presented the Best Dressed prize to Larisa Fowler, from Basingstoke. The Best Dressed Family prize went to the Denbury family from Devizes for mum Liz, dad Andrew, Poppy (aged 11) and Morgan (aged 9). The Best Dressed Camper Van award on Saturday went to Dawson Carr, from Portsmouth, whose immaculate 1973 Type 2 camper was featured on the Portsmouth Kleine Wagens Volkswagen Club stand, and to Ally O'Connor on Sunday.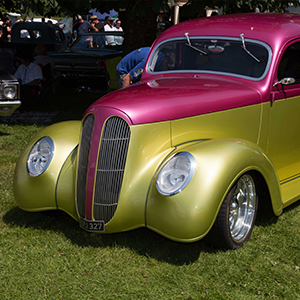 Saturday's Simply VW was a chilled-out tribute to one of the best-loved motoring marques, with traditional air-cooled classic Beetles, Karmann Ghias and campers parking up with Golfs, Sciroccos, Polos and other modern-day models, while owners and visitors chatted and relaxed in the Beaulieu attraction grounds.
Among the cool classics on show was a rare early Beetle, a grey-coloured example featuring a split rear window, as well as a pair of rare Golf Country off-roaders and a 1995 Transporter with skilfully applied seaside-scene paintwork.
Winning the People's Choice Award as the most popular vehicle on Saturday was the T5 crew cab pick-up owned by Jon-Paul Lockyer, from Basingstoke. Fitted with air suspension to give it an extra-low stance, Jon-Paul built the T5 using a standard pick-up. "I bought another van to cut up to make the rear body," he said. "There were many long evenings and late nights to finish it."
Runners-up were Patrick Zagrodnik with his V6-powered Golf Mk1, and Charlotte Hopkins with her camouflage-coloured Beetle cabriolet.
Simply VW is one of eight Simply rallies in the 2017 Beaulieu season. Simply Land Rover is next on June 25th, Simply Jaguar on July 9th and Simply Smart on November 12th. Each event celebrates a particular marque or motoring theme, giving enthusiasts and attraction visitors the chance to see some of their favourite machines close up.