New research has revealed the Vauxhall Corsavan to be the most fuel-efficient van for tradespeople when it comes to fuel. The diesel model costs just £13,875, boasts 86 MPG and will take you 847 miles on one tank.
The van that covers the most miles on a full tank in the data is the Citroen Dispatch – reaching close to 968 miles on a full tank.
This is according to new research by Toolstation, who analysed the fuel-efficiency of some of the most popular petrol and diesel vans on the market. Electric alternatives have also been analysed for their distance on one full charge for those who are looking to drive green.
The top five most fuel-efficient diesel vans
Diesel vans are also far more common than petrol vans as they offer a much more fuel-efficient drive, essential for larger makes and models.
Taking the top spot is the Vauxhall Corsavan, travelling as far as 847 miles on a full tank – that's equivalent to driving from London to Manchester and back twice. The diesel model also boasts the cheapest cost to purchase from new at £13,875 – so it's perfect for those on a budget.
This van is on the smaller side, so while it's a perfect run-around van, it may be less suitable for tradesmen carrying hefty cargo.
A larger alternative is the Peugeot Partner which ranks second overall in our list. This van will cost £15,825 to purchase from new and £290 per year in road tax. The distance on a full tank for the Partner is also one of the longest in the data at 884 miles.
In fact, the only van to beat this distance is the Citroen Dispatch (ranking third overall) which will return a total of 968 miles on a full tank. It does cost a little more, coming in at £20,495 from new, but thanks to its fuel-efficiency, many may deem it worth the extra investment.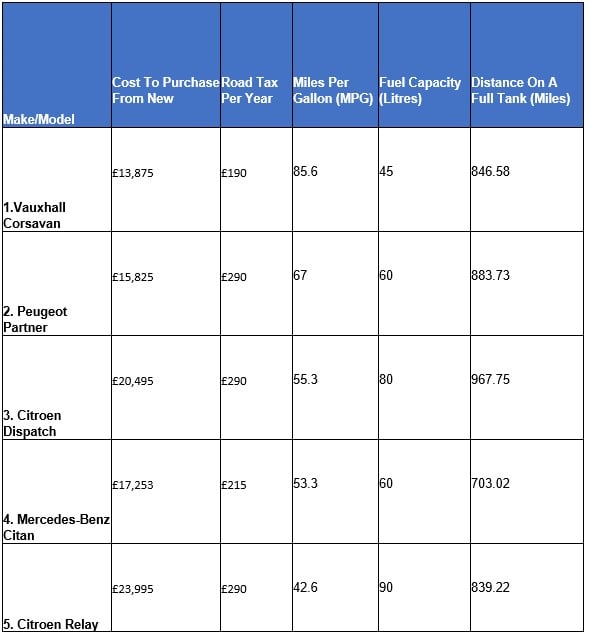 The top five most fuel-efficient petrol vans
Though petrol is cheaper than diesel at the pump, the distance on a full tank is lower across the board – meaning a petrol van will likely have you spending more on fuel overall.
The Vauxhall Corsavan comes in as the most fuel-efficient van in the petrol ranking too. The van costs just £12,038 to purchase from new, and just £190 per year in road tax. At 52.3 MPG (miles per gallon), the petrol van will take you 517 miles on a full tank.
The only downfall is the limited space in the back of the van, meaning for some trades it might not be suitable – particularly if a lot of tools are needed for the job.
The Citroen Berlingo ranks fifth overall in the list, but will take you the furthest of all petrol vans at 574 miles per full tank. The model misses out on a higher ranking due to a greater cost to purchase and tax per year – but with its large fuel capacity and distance on a full tank, it could be worth the investment.
The top five most economical electric vans
Electric vans are continuing to grow in popularity, but they do come with a higher price tag. While some are on the more affordable side at £27,855 (Fiat E-Doblo), some are priced as high as £70,665 (Mercedes-Benz EQV).
You will save money by not having to pay road tax each year – an average saving of £300 per year on road tax alone – but it's still a more costly option up-front than petrol and diesel alternatives.
The Fiat E-Doblo takes the top spot as the most economical electric van thanks to its more affordable cost of £27,855. The model also boasts a large battery capacity and will reach 173 miles on one charge (the fifth furthest distance).
The vehicle you'll have to charge the least is the Renault Zoe Van, which will take you 245 miles per charge – that's 112 miles over the average.
The average distance on one charge for electric vehicles is 133 miles – comfortably taking you from London to Nottingham, but not quite all the way to Manchester or Liverpool. This makes electric vans perfect for tradespeople who stay close to base, but not so much for those who cover longer journeys.
Expert advice on how to drive more fuel-efficiently
Toolstation also spoke to experts at RAC for advice on how their customers can drive more fuel efficiently.
An RAC spokesperson said: "There are some simple ways to help you save fuel – and here at the RAC, we have an expert guide looking at all the ways you can implement this if you are looking at cutting costs.
Regular maintenance and servicing
"Regular maintenance and servicing improves the efficiency of your vehicle, and therefore can improve your fuel consumption. This is especially important for tyres – which need to be inflated to the correct level.
Hold back on the speed
"Unsurprisingly, excessive speed is the biggest fuel-guzzling factor, so having a light right foot and ensuring all acceleration is gentle is very important for fuel-efficient driving.
Use cruise control only for driving on motorways 
"Many modern vehicles come with cruise control. This only aids fuel economy when driving on a constant flat surface, hence why it is usually best reserved for motorway driving.
Watch your cargo
"Also, do not leave unnecessary items in your van, or have any roof bars/boxes that aren't in use – as they create drag and wind resistance. This may be hard when you are used to storing the majority of your tools in your van, but planning ahead and only taking the tools you need for that day will avoid consuming more fuel.
Reserve the use of AC for just when necessary
"Driving with a window open also has a similar impact. However, using the AC takes power from the engine and so it impacts fuel consumption. Only use it when absolutely necessary and avoid for shorter journeys.
Avoid heavy accelerating and braking
"Finally, fuel efficiency is all about keeping moving and not losing momentum. Accelerating and fast braking is very costly in fuel consumption terms, and so is going up any steep incline. Being aware of the road ahead and adjusting accordingly can make a massive difference."