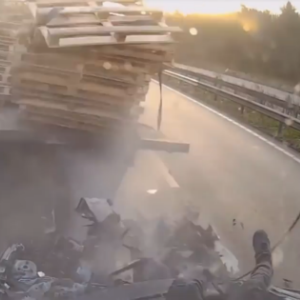 A lorry driver has changed his plea to "Guilty" after footage from his dash cam showed that he was at fault when a crash left him with his legs hanging out of the windscreen and debris all over the dual carriageway near Canterbury.
Vygantas Stanulis, from Lithuania, was sentenced to 12 months in jail on Monday after he changed his plea to guilty for causing a crash by dangerous driving in January. Sanulis failed to stop during rush-hour tailbacks on the A2 near Canterbury.
The horrific footage (in the clip below) shows how the Mercedes articulated lorry that Stanulis was driving failed to stop or even slow down as  it approached and crushed a Ford Fiesta which in turn hit a Iveco flatbed lorry carrying wooden pallets.
Throughout the investigation Mr Stanulis had denied responsibility but had show a great deal of remorse particularly in light of the injuries sustained by the driver of the ford fiesta, a young man in his 20's. the driver suffered multiple injuries including a fractured skull, two fractured vertebrae, a fractured ankle, knee and shin bone and facial injuries. And investigating officer PC Celia Weller said;
"The victim still faces operations on his face and knee and will live with the consequences of this collision for a long time,"
Weller continued: "Stanulis told us he had taken his eyes off the road for a second to look at two lorries parked in a layby. He described it as a momentary lapse in concentration."
"Stanulis didn't set out that morning to cause harm and he is still coming to terms with what happened.
"It just goes to show that any lapse in concentration when driving can have devastating consequences."
It really is vital that drivers take the proper rest breaks and remain focussed on the roads, this crash could have ended very differently and Stanulis could have been facing a much heavier charge.