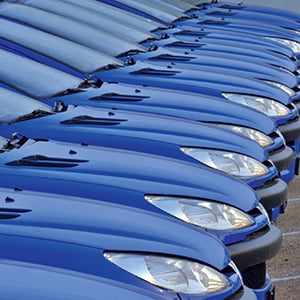 Nine Enterprise CarShare cars as a virtual pool car fleet – two of which are electric vehicles
Electric vehicles and car share scheme saves Aylebury Vale Distric Countil (AVDC) big money
The nine low-emission and fuel-efficient vehicles provided by Enterprise Rent-A-Car are now being used by staff travelling on council business and the switch will save the council an estimated £100,000 a year.
By analysing the data from council business trips undertaken in employees' own cars, Enterprise was able to determine that 81% of those journeys were shorter than 50 miles and 71% of trips lasted for fewer than four hours. In addition, the most common reason these employees didn't use public transport instead was the lack of a train station near their intended destination, so an alternative to private vehicles was essential.
As a result of this analysis the council has introduced nine Enterprise CarShare cars as a virtual pool car fleet – two of which are electric vehicles – to cover the organisation's shorter business trips. It has also provided employees with access to Enterprise's online technology so they can hire vehicles on a daily basis for longer journeys.
Councillor Sir Beville Stanier, AVDC's Cabinet Member for Environment and Health, said: "It is important that the council leads from the front to demonstrate what can be done to reduce our impact on the environment […] Our new car pool scheme will help cut down emissions of carbon dioxide and reduce costs of staff travel. We also now have better control over employee journeys and can monitor where vehicles are."
Adrian Bewley, director of business rental UK & Ireland at Enterprise Rent-A-Car, adds: "The council wanted to move away from the expense and hassle of mileage reimbursement but the question was how best to do this in the absence of a public transport option. Our technology provided the data capture that enabled us to analyse exactly how, where and why rental and car sharing would be a better alternative.
"Aylesbury Vale District Council is a forward-thinking council that understands the cost, environmental and social benefits of rental."