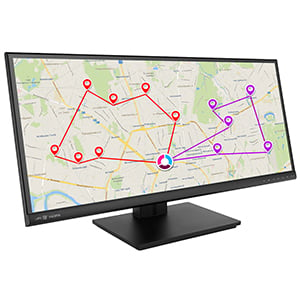 "We've made a 10% saving on fuel so far and that's something we're confident we can reduce further with Masternaut."
Mimram Site Services reduces speeding and fuel costs with Masternaut telematics system
Mimram Site Services, a specialist electrical services company in the UK, has implemented a telematics solution from Masternaut into its fleet of 58 vehicles and has already reaped the benefits – seeing a reduction in speeding and a 10% saving on fuel costs.
The company now has a complete telematics solution that gives real-time monitoring of its drivers and vehicles, information on driver behaviour and how it can be improved, and feedback on instances of speeding, harsh braking and acceleration.
Mimram Site Services' Gary Price commented: "Working with Masternaut, we've been given a top rate service and valuable data to help steer our business and fleet. The results we've had on driver behaviour have been excellent and in the future with Masternaut, we're hoping to do more with fuel consumption to see how we can reduce that further. We've made a 10% saving on fuel so far and that's something we're confident we can reduce further with Masternaut."
Driver behaviour is closely analysed by the team at Mimram Site Services, with feedback being given to drivers who aren't driving efficiently or safely. Since implementing this process, driven by Masternaut data, Mimram Site Services has seen speeding and harsh events both reduce significantly, creating a safer working environment for mobile staff and other road users. The application of driver performance has helped contribute towards a reduction in fleet insurance costs.
Personal and business mileage is logged with Masternaut's telematics system, making any expense claims completely accurate based on odometer readings and not GPS, unlike other systems available. This service ensures full compliance with HMRC vehicle mileage management policy.
Steve Towe, Chief Commercial Officer and UK Managing Director added: "Telematics can provide benefits for businesses beyond vehicle tracking. For Mimram Site Services, Masternaut's telematics system has assisted in streamlining its business processes and has helped fleet managers effectively track jobs, drivers and vehicles to improve customer service and ensure accurate expense claims for personal mileage and payroll information."