A major bridge upgrade project on Scotland's busiest motorway has been completed ensuring maximum protection for all road users.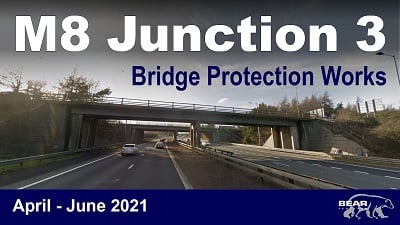 New permanent concrete road safety barriers have been installed on the M8 at Junction 3, in Livingston, to replace an old system which no longer met current standards.
Leading manufacturer and supplier of vehicle restraint systems (VRS), Hardstaff Barriers, worked alongside Transport Scotland, BEAR Scotland and Highway Barrier Solutions (HBS), to install high containment barriers to protect the columns of bridges crossing over the motorway.
REBLOC RB140 and Maxibloc barriers were installed along the verges and on the central reserve, in order to protect the bridges in the event of a collision.
Hardstaff Barriers' expert team was engaged throughout the eight-week programme and worked hard to ensure that the project was completed on time and with minimum disruption to traffic.
The M8 is the busiest motorway in Scotland, connecting the country's two largest cities – Glasgow and Edinburgh.
Gerasimos Samoilis, Principal Engineer for BEAR Scotland's South East Unit, said: "Overall, it was a successful project with effortless collaboration between Transport Scotland, BEAR Scotland, Hardstaff and HBS."
He added: "The collaboration with Hardstaff has been excellent from inception to the completion of the project, at all levels.
"Hardstaff provided guidance to BEAR Scotland at the Preliminary Design stage, regarding their best product for the job. Thereafter, Hardstaff collaborated with BEAR's designers at Detailed Design stage, providing all the necessary information.
"Also, Harstaff assisted with their experience at the Construction Stages, minimising disruption for the road users."
He added: "Without the use of Hardstaff products at the specific site and location, it would require major works resulting in major delays and disruption. The speed of installation and the quality of the products were a big bonus."
Nigel Dougan, of Highway Barrier Solutions (HBS), said: "We are happy to have been involved in the successful delivery of this project for our client, BEAR, and we are pleased to have contributed to making Scottish Roads safer."
Sarah Compton, Highways Account Manager, at Hardstaff Barriers, said: "We are thrilled to have had the opportunity to be a part of such an important project, which will ultimately make the road safer for all road users.
"It has been a pleasure working so closely with all of the highway professionals involved."