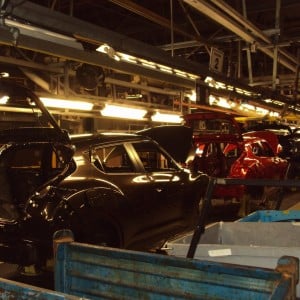 HIGH: Great year for UK car industry
Car production hit the highest volume since 2007 last year, rising by 3.1% to surpass 1.5million units, the Society of Motor Manufacturers and Traders (SMMT) have revealed.
A total of 1,509,762 cars were built in the UK last year, rising from 1,464,906 in 2012 – meaning one vehicle rolled off a production line every 20seconds.
Industry analysts are predicting that output will reach record levels of around two million units by 2017, with UK becoming the third-largest car manufacturer in Europe.
Mike Hawes, Chief Executive of the SMMT, said: "2013 demonstrated the value of the UK's diverse car manufacturing industry, as surging home demand and robust exports outside Europe saw output grow."
Business Secretary Vince Cable added: "Our success lies in the appetite from countries around the world for British cars.
"Around 80% of the 1.5million cars we produced last year were exported – a testament to the diverse, high quality of British manufacturing.
"It also highlights the benefits of industry and government working together and we want to continue this partnership through a long-term strategy.
"This will give businesses the confidence to invest, speed up development on vehicles of the future and keep the UK as a world leader in cars.
"Our investment of £1billion jointly with industry will help do this, while also delivering jobs and driving growth."
Image courtesy of chuckoutrearseats, with thanks.