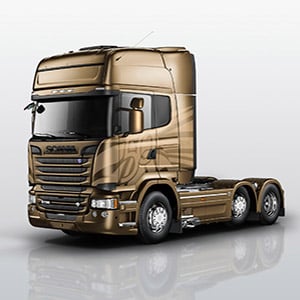 CELEBRATION: New Scania Golden Griffin
Scania are celebrating their 50th year of UK trade with the release of the Golden Griffin, a limited edition V8 tractor unit.
The super-rare vehicle, of which only 50 examples will be produced, will be recognisable by striking gold livery available in two formats.
Available only with Scania R-series Streamline Topline cabs, each model in the range will carry a plaque bearing its unique limited edition number.
The choice of available engine outputs will be 580hp or 730hp, although model numbers one and 50 will be equipped with Scania's 730hp unit.
All vehicles can be specified in 4×2, 6×2, 6×2/2, 6×2/4 and 6×4 wheelplan format, and Scania's Griffin pack will be fitted as standard.
"I am confident that demand will be exceptionally high, so the advice to anyone looking to secure one of these unique vehicles has to be contact your dealer right away."
Martin Hay, Scania
In addition, each vehicle will be equipped with a kitchenette, TV/DVD player, and Scania's Black Leather V8, Prestige and Driver packs.
Lane Departure Warning, Adaptive Cruise Control and Advanced Emergency Braking will also all be fitted, and each truck will feature a state-of-the-art entertainment system.
Martin Hay, UK Truck Sales Director at Scania (Great Britain) Limited, said: "Not since the Scania Centurion range, which was produced in 1991 to mark Scania's centenary, have we developed such an exclusive offering as this Limited Edition range of gold 50th Anniversary Trucks.
"I am confident that as with the Centurions demand will be exceptionally high, so the advice to anyone looking to secure one of these unique vehicles has to be contact your dealer right away in order to avoid disappointment."