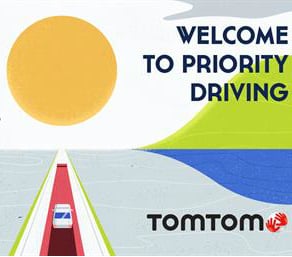 "Welcome to Priority Driving". That's the message TomTom is communicating to drivers through its latest integrated communications campaign. Inspired by the airline industry's frequent flyer clubs, the new category positioning has been created to reflect the feeling that driving with a TomTom navigation device gives you.
Nuno Campos, VP Marketing, TomTom, said: "Because our latest navigation devices are built with technology that we've created for the future of driving, it means that we're able to provide a superior driving experience. Combining smart routing with our maps and traffic information, we can give drivers a feeling of having their very own driving lane. That's what the Welcome to Priority Driving campaign all about."
TomTom will be bringing the campaign to life with a radio campaign and several digital treatments, including programmatic advertising, YouTube pre-roll, search, and a campaign website. The campaign will also be reflected in-store and through PR and social campaigns. Welcome to Priority Driving will run until the end of 2016.
The multi-million Euro campaign will launch in five European markets including the UK on 20 June. It was created in collaboration with 180 Amsterdam.
Al Moseley, President and CCO, 180 Amsterdam, commented: "Not everybody understands that TomTom's satnavs are now quicker, smarter, and that they work in real-time. So we wanted to give a sense of what driving with a TomTom feels like now – the same feeling that frequent flyers get at the airport – skipping the check-in, security, and boarding queues. This sense of advantage is exactly what Welcome to Priority Driving is all about."