Prestige Fleet Servicing (Prestige) has strengthened its technical and business development support teams with two new key appointments.
Nathan Brooks, 46, has joined the business in the newly created position of Technical and Business Development Manager, having previously worked for the AA Inspections Team, after initially starting with the AA as a patrolman.
He has also held the position of Technical Manager for Arriva and will bring a wealth of technical and customer development experience based on 25 years' experience in the motor industry.
"Having worked for businesses where Prestige previously provided support as a supplier, I jumped at the chance to join them when the opportunity came up.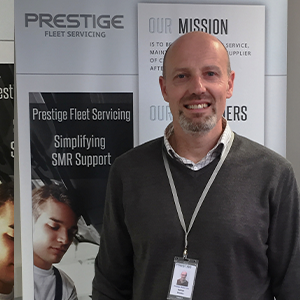 "I hope to be able to use my experience to help our technical team to increase their knowledge and professionalism in this key area of the business. We have a good technical team here at Prestige with an ideal blend of experience and youthful enthusiasm and energy," he said.
At the same time, Andrew Partis, 39, has joined the company as Technical Services Advisor, having previously worked for 15 years with LeasePlan, one of the UK's largest leasing companies.
Partis is a qualified technician with experience of the Mercedes-Benz, Peugeot and Volkswagen franchises, and as part of his role will work on new and innovative products and services for fleet customers.
"In many ways it was a marriage made in heaven and I look forward to bringing my technical experience to further develop Prestige's services for our customers," he said.
Prestige Operations Director, Nick Hutton, welcomed the two newcomers.
"These two new highly experienced appointments will help reinforce our technical support team with their expertise and knowledge, and support our plans to develop our products and services for our customers' current and future requirements," he said.
One of Prestige's key objectives this year is to grow its service centre network to 400 outlets, extending its national coverage throughout the UK and meeting the extra demand from its increased customer base.
The company's network has now grown to 344 independent service centres, having added outlets in 2017 in new areas such as Norwich, Beverley, and Wrexham, along with the first centre in the Highlands, on the Isle of Benbecula in the Outer Hebrides.
All new centres meet the stringent requirements required to join the network. For example, all have industry-recognised quality accreditation, all use parts of equivalent quality to manufacturer original equipment, and all offer labour rates at significant savings compared to main franchise dealers.