North One Television is pleased to confirm it is the new promoter and owner of the DirtQuake brand and event.
DirtQuake is an alternative motorcycling festival that encourages a diverse blend of bike fans, dirt racers, millennials, grease monkeys, celebrities, custom shop designers, speed freaks and weekend warriors to celebrate their shared love of motorbikes.
Irreverent racing is at the heart of DirtQuake. The action takes place on high-adrenaline, loose-surface oval circuits without the hassle and costs usually associated with motorsport. Dirt Quake is inclusive – giving riders, enthusiasts and even pro-racers a unique chance to take on all-comers.
North One plans to hold races in the UK, Europe and US in 2017/18 on mud, snow and sand, allowing more bike fans than ever before to take part life and watch the show on television.
With an ITV television deal already in place and multiple sponsors coming onboard, the company plans to grow DirtQuake globally building out numerous events around the world in the coming years.
The next DirtQuake – at King's Lynn, in Norfolk, on Saturday, July 8 and Sunday, July 9, 2017, will be the first event that receives television coverage, with a one-hour special planned for ITV4 at 8pm, on Wednesday 12 July. It will also be super-sized compared with previous years, with the event held over two days rather than just one.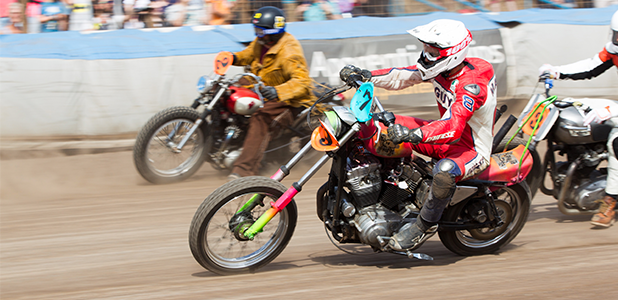 Superstar motorcycling talent appearing at this year's event will include World Superbike champions Carl Fogarty and Neil Hodgson, alongside 23-time Isle of Man TT winner John McGuinness and DirtQuake veteran Guy Martin.
Commenting on the acquisition, Neil Duncanson, CEO North One Television, said: "Guy Martin introduced us to DirtQuake a few years ago and we've been watching the event grow with interest. What Gary Inman has created is a micro-festival that celebrates our collective love of motorbikes.
We don't want to change the DNA of the event but we certainly want to build on it. The UK DirtQuake only happens once a year in Norfolk, and we think more people around the world will welcome an event like this.
We're in the business of building an audience, both live and on television, and we're making a major investment in DirtQuake to make that happen. I'm extremely confident the event will be rewarding for anyone who loves bikes – and will still be hugely entertaining for anyone that doesn't."
Gary Inman, founder of DirtQuake said: "I'm very pleased that a business with the track record of North One has recognised what's great about DirtQuake and I'm confident they are the right people to take it to the next level. We have had five amazing years growing this event from nothing, primarily for fun, and I'm very proud of what it's become and will go on to. I'll be staying on as a creative consultant to help North One grow DirtQuake into something very special".