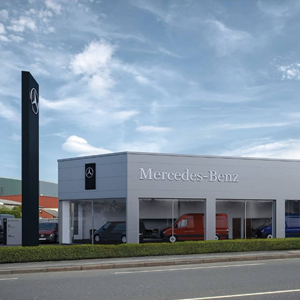 The outlook has never been brighter for Mercedes-Benz van operators in Devon, following the appointment of new Dealer Snows Motor Group.
Mercedes-Benz Vans UK Ltd has announced today that its new partner is scheduled to open for business in Exeter on 18 December 2017. Trading as Mercedes-Benz Van Centre Exeter, it will retail models from the award-winning Mercedes-Benz Vans range, while also providing customers with round-the-clock after sales support.
The Dealer joins the Mercedes-Benz Network at a very exciting time, following the recent announcement that the new X-Class pickup is due to arrive in the UK shortly, to complement the established Sprinter, Vito and Citan line-up.
The family-owned Snows Group represents a variety of vehicle marques and has been serving motorists in southern England for more than half a century.
The latest member of the customer-focused Mercedes-Benz Vans Dealer Network will operate initially from a temporary facility at Hennock Road Central, Marsh Barton, while its new centre undergoes a £1.4m refurbishment.
The extensive programme will create a state-of-the-art facility including a class 7 MOT capability, a huge nine-screen interactive TV display in the main showroom and numerous other high-tech solutions in the retail environment.
The Snows team expect to be fully operational in their smart new sales showroom and service centre by late December 2017/early January 2018.
Sarah Palfreyman, Head of Network Operations, Mercedes-Benz Vans UK Ltd, said: "We are proud to welcome Snows Group to our Network. Its team bring a wealth of local knowledge, and a real understanding of both retail and commercial customers."
She continued: "When selecting a new Dealer partner we had to ensure that not only would it be the right 'fit' for our business now, but that it would also be best-placed in the future to adapt to the changing requirements of our customers' businesses. Snows Group have a proven track record of meeting the highest standards of product presentation and service, and we very much look forward to working with them."
Stephen Snow, Snows' Group Chairman, said: "The Mercedes-Benz Vans dealership is great news for discerning businesses that value quality driving experiences and vehicle reliability. We are proud to be able to help customers across the region with their commercial needs and look forward to providing an unrivalled customer experience, from sales to servicing and parts."
Steve Bridge, Managing Director, Mercedes-Benz Vans UK Ltd, concluded: "Whichever industry our customers work in – and they can be anything from an individual ice-cream seller to a global parcel delivery specialist – our focus at Mercedes-Benz Vans is always on keeping our customers' businesses moving.
"Our vans have a role to play in virtually every sector, so it is important for us to work with Dealer partners that understand the varying demands and needs of all of these different applications. This, ultimately, is what drives our business. Snows Group fits the bill perfectly and I look forward to celebrating the ongoing successes of Mercedes-Benz Van Centre Exeter.