Mercedes-Benz reveal all new Vito
By Kyle Lindsay
Wednesday, July 30, 2014 - 09:00
Comments (0)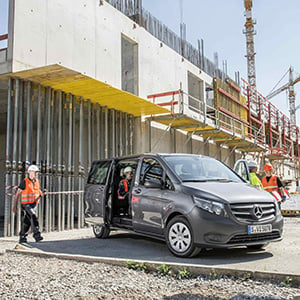 One for all: the astonishingly versatile new Vito
Mercedes-Benz have promised that their new Vito will be low on costs, high on payload, and expert on safety – showing true versatility to the fleet market.
Systematically configured for efficiency, the Vito sees Mercedes-Benz trying to write a new chapter in passenger transport by offering a variety of models – the standard van has up to 1,369 kg of cargo capacity and therefore the highest payload in its class. The Vito Crew on the other hand combines the advantages of a panel van with those of a crewbus.
The van is available in both rear and front wheel drive depending on your load specs – the front wheel drive version has a transverse-mounted, compact four-cylinder engine with a displacement of 1.6 litres while the rear-wheel drive version offers a four-cylinder engine with a 2.15-litre displacement.
Full pricing details are yet to be confirmed for the model.