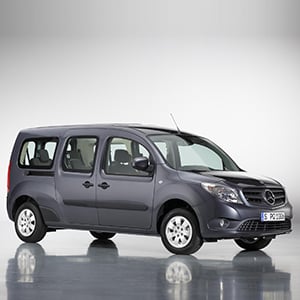 ADDITION: New seven-seat Citan Traveliner
Mercedes-Benz have added a new extra-long, seven-seat Traveliner to their Citan range.
The new variant, which will be available to order from August priced from £17,810, is based on the 4,705mm-long Citan.
However, it adds a new third seat row consisting of two individually-removable seats.
Mercedes claim the model is ideal for alternating between carrying crew and cargo in commercial applications, as a taxi, or for a mix of professional and private use.
Depending on the position of the individual seats, the load space behind them will take between 300 and 400litres of luggage.
Removing the seats in the third row increases the cargo capacity of Citan to 2,200litres.
Standard equipment includes a flexible cover for the load compartment, as well as load-securing rings in the floor for securing the cargo when the seats are folded down or removed.
Two engine output ratings will be available; the Citan can be purchased in 109 CDI (90hp) or 111 CDI (110hp) format.