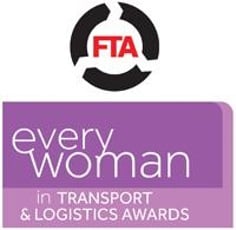 Winning the FTA everywoman Transport & Logistics – Woman of the Year Award was a "fantastic honour" says Fiona Kerr, the winner of the prestigious industry award 2015.
Managing Director – First Glasgow, Ms Kerr stated:
"Being awarded Woman of the Year gave me the confidence to speak openly with my employees, customers and stakeholders about the diversity challenges we face. It has spurred me on to take action – to do my bit to attract women into my industry and my business, and to create an environment where they can flourish."
The Freight Transport Association is once again the title partner of the FTA everywoman in Transport and Logistics Awards whichrecognise the talents of remarkable women in the logistics sector. Fleet planning engineers, operation directors, drivers and graduates have all received recognition from the Awards in the past, which bring to light the wealth of role models for women in the industry.
Since being launched in 2008, the number of nominations has increased year-on-year, and the level of entries has continued to impress the judges who last year described them as outstanding.
Representing the FTA on the 2015 judging panel was Director of Operations – June Powell who said:
"The calibre of nominations to the FTA everywoman Awards was incredible, and demonstrated the brilliant work these ladies are doing, and how they are making a difference to the freight and logistics industry.  FTA hopes that the 2016 Awards will once again uncover inspirational role models, help improve the image of the industry, and illustrate how important the support and development of female talent is."
FTA has been the title partner of the awards for three years which began as a way of celebrating the hard work and achievements by women in the logistics industry.  It is anticipated that the 2016 awards will once again uncover and showcase role models who have made an outstanding contribution to the industry and those who are demonstrating drive and ambition.
The winners will be unveiled at a ceremony at the Hilton Park Lane, London on 26 May 2016.