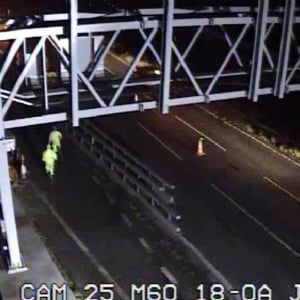 Drivers are being urged not to put road workers' lives at risk by deliberately ignoring road closures on the M60 and M62 near Manchester.
New figures have revealed that four drivers a month are entering closed sections of road in the Manchester smart motorway scheme to either overtake traffic on the motorway or avoid using diversion routes.
Highways England has released CCTV footage showing a driver ignoring an overnight slip road closure at junction 11 of the M60 at Eccles, where he is seen being chased through the construction area by shocked road workers. The video is available at www.youtube.com/watch?v=IXxLgYawDRk.
Drivers are being warned that they could be prosecuted if they ignore road closures, and electronic signs at the side of the motorway are also being used to display the message 'Don't ignore road closures. CCTV in operation.'
Earlier this year, a drunk driver received a 12-month prison sentence and was disqualified from driving for 15 months after ignoring an overnight slip road closure at junction 23 of the M60 near Ashton-under-Lyne.
Stephen Hill, Project Manager for the Manchester smart motorway scheme at Highways England, said:
"It's shocking that four drivers a month are putting the lives of our workers at risk by deliberately ignoring road closures, just to try and save a few minutes on their journeys.
"The work to upgrade the M60 and M62 to a smart motorway is one of the biggest construction projects currently underway in the North West, and sometimes we need to close parts of the motorway to ensure the safety of our workers.
"We only ever close slip roads and motorway carriageways overnight when traffic levels are lower, and make sure there are clearly-signed diversion routes in place.
"We are urging drivers to follow the diversions for their own and our workers' safety, and warning that we will pass on the details to the police of any drivers who deliberately ignore road closures."
Over 400 people are currently working on the £208 million project to create a smart motorway between junction 8 of the M60 near Sale and junction 20 of the M62 at Rochdale.
The hard shoulder is being converted to an extra lane on a five mile stretch of the M62, and variable speed limits will be introduced on new overhead electronic signs along the entire 17-mile route to tackle congestion and keep traffic moving.
A total of 95 drivers deliberately travelled into construction areas on the Manchester smart motorway scheme over the past 22 months to try and cut their journey times. The majority of the incidents happened overnight, between 10pm and 6am, when carriageway and slip road closures are in place as traffic levels are lower.
Over a third of the incidents (34) involved drivers ignoring slip road closures, almost a third (29) related to vehicles crossing barriers or cones at the side of the motorway, and over a quarter (26) saw drivers take no notice of lane closures. There were also six incidents where drivers ignored full carriageway closures.
Highways England has issued the following advice for drivers travelling through roadworks:
Keep within the speed limit – it is there for your safety.
Get into the correct lane in good time – don't keep switching.
Concentrate on the road ahead, not the roadworks.
Be alert for construction vehicles leaving or entering work areas.
Keep a safe distance – there could be queues in front.
Observe all signs – they are there to help you.
Be alert for road workers – the roads are their workplace.
The Manchester smart motorway scheme is due to be completed in autumn 2017. More details are available at http://roads.highways.gov.uk/projects/m60-junction-8-to-m62-junction-20-2.