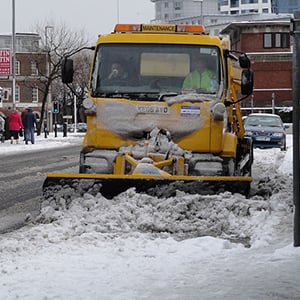 TRAGIC: Colin Shields (not shown) paralysed
A Glasgow-based company has been fined £13,500 after a worker was left paralysed from the neck down following a three-metre fall from a gritter.
Colin Shields, 34, of Cumbernauld, suffered the life-changing injuries at Inex Works Ltd's premises on December 28, 2010, while helping his colleagues dislodge compacted grit salt from inside the machine.
Father-of-two Mr Shields, who was Company Secretary at the time, endured irreversible damage to his spine and now requires help and assistance with his day-to-day care.
Health and Safety Executive (HSE) investigators discovered several significant failures in the company's management of health and safety.
Airdrie Sheriff Court heard last week that Mr Shields returned to Inex's Kilsyth base following a gritting job in Blackford, Perthshire, and saw three colleagues clearing grit salt from the chute, spreader and gritter box.
Offering to assist, he climbed the ladder at the back of the vehicle to gain access to the top of the gritter body.
As he moved towards the rear of the vehicle to get a pole to help him dislodge the salt, his foot slipped and he fell head-first onto the ground.
His fellow workers raised the alarm and he was rushed to hospital but was found to have sustained several fractures of his spine, leaving him paralysed.
He remained in hospital until July 2011 and later had surgery to his right arm that has provided him with some limited movement.
HSE inspectors found that Inex Works Ltd had failed to take sufficient measures to prevent falls where work was being carried out at height.
The method used by their employees was unsafe, the court heard, as the gritter was not designed with a working platform, walkway or hand rails.
Mr Shields was also not wearing a harness or restraint to prevent him from falling.
HSE claimed the incident could have been prevented by taking suitable precautions or using alternative means of access such as erecting tower scaffolding to work from.
Inex Works Ltd, of St Vincent Street, Glasgow, were fined £13,500 after pleading guilty to breaching Regulation 6(3) of the Work at Height Regulations 2005.
Hazel Dobb, Inspector at the HSE, said: "Mr Shields could have easily been killed.
"As it is, he has been left with irreversible injuries and he and his family have obviously been devastated.
"Inex Works Ltd failed to make sure employees were able to work in safety.
"This incident could have easily been avoided as there were several other ways this work could have been carried out, such as using alternative means of access or use of a harness.
"Tragically, that is a lesson for the company learned too late for Mr Shields."