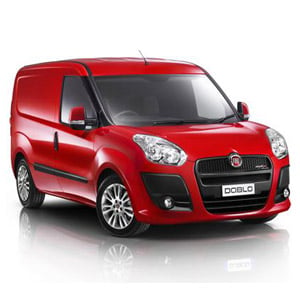 FIAT Professional has launched a range of new business contract hire promotions across its range of award-winning commercial vehicles. Each vehicle is now offered with a very affordable initial payment and low monthly leasing costs, which can also include vehicle maintenance if required, making this latest FIAT Professional promotion ideal for businesses looking to keep a tight rein on their vehicle running costs over the term of contract.
In addition to the low monthly payments, all contract hire customers also receive free ply-lining in their vehicle load bays, a GAP waiver insurance policy, pan-European breakdown assistance and inclusive road fund license for the duration of the contract. Those opting to include maintenance won't have to budget for any routine servicing, as specified in the vehicle handbook, while replacement batteries, exhaust systems and even tyres, subject to normal wear and tear, are also covered.
The most compact van in the FIAT Professional range, the FIAT Fiorino Van 1.3 Multijet SX with standard near-side sliding side door, is available with monthly fixed rental payments of just £146*, or £173* including maintenance, while theFIAT Doblò Cargo 1.3 MultiJet II 90hp represents outstanding value with a monthly rental of only £159* (£184* including maintenance). The Fiorino has an initial rental payment of £876* while the Doblò Cargo has an initial rental of £954* (£1,038 and £1,104 respectively including maintenance). For as little as an additional £17* per month, customers can upgrade their Doblò to the Tecnico version which includes air conditioning, Bluetooth connectivity, a TomTom satellite navigation unit, front fog lights, rear parking sensors and heated electric mirrors, all as standard.
For those in need of more carrying capacity, the standard wheelbase FIAT Ducato 2.3 MultiJet II 110hp is available from just £189* per month with an initial rental of £1,134* (£226* and £1,356* respectively including maintenance) with the popular, medium-wheelbase, 3.5-tonne Ducato 2.3 MultiJet II 130hp available from £229* per month and an initial rental of £1,374* (£245* and £1,470 initial payment including maintenance). At the end of the contract, typically between 24 and 60 months, the vehicle is simply returned to the supplying dealership without the time-consuming hassle of trading it in or selling it on privately.
These extremely affordable payments, combined with the exceptional efficiency and reliability of FIAT Professional's vehicles, ensure that running costs remain consistently low over the duration of the contact hire agreement, thereby freeing up much-needed capital for core business activities.  FIAT Professional dealers also have the flexibility to arrange contract hire agreements tailored to each customer's requirements at extremely competitive rates.
Further information on the FIAT Professional range, is available from www.fiatprofessionalpress.co.uk and business users can find out more on the public website www.fiatprofessional.co.uk.