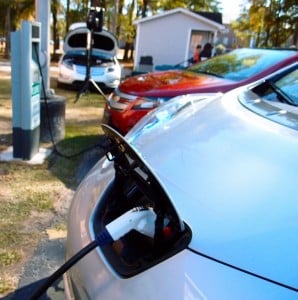 ELECTRIC: ACFO report strong demand
Around 140 fleet decision-makers have already booked places to attend next month's electric vehicle seminar hosted by the Association of Car Fleet Operators (ACFO).
Held on Tuesday, February 18, at BMW Oxford, the free-to-attend event aims to provide managers with the very latest information, and the expert speaker lineup has now been finalised.
Speakers at the event include:
Anna West, Head of Consumer Initiatives at OLEV, who will focus on government support for electric vehicles and available funding to fleets, the Plugged-in Fleets Initiative and tax issues.
David Nicholas, the Fleet Partnership Manager at the Energy Saving Trust (EST), who will highlight: 'The Business Case', 'Vehicle Charging and Infrastructure' and 'Tax and Electric Vehicles'.
Jim McNally, Asset Risk Manager, and Nigel Trotman, Strategic Fleet Consultant, both from Alphabet, who will focus on the challenges faced from a leasing company perspective and how fleets can tackle the introduction of electric vehicles to their fleet policies.
Phil Redman, ACFO Director and Fleet Manager at IBM UK, who will discuss the issues he confronted when choosing to add zero-emission cars to the company car choice list.
Paul Barker, Editor of BusinessCar, who will confront the issues facing drivers in taking to the roads at the wheel of electric vehicles having driven a zero-emission car for many months.
Gerry Keaney, Chief Executive of the British Vehicle Rental and Leasing Association (BVRLA), who will host an open question and answer and discussion session during which delegates will be able to gather further information on key issues addressed during the seminar or raise any other electric vehicle issues of concern.
Delegates will also have the opportunity to test drive the new BMW i3.
Julie Jenner, Director at ACFO, said: "The government, motor manufacturers, such as BMW, and vehicle recharging companies are collectively spending billions of pounds on developing the electric vehicle market and bringing zero and ultra-low emissions cars and vans to the fore.
"Organisations are responsible for buying the majority of new cars in the UK and, therefore, fleet decision-makers have a critical role to play in helping to accelerate demand for electric vehicles if sales are to soar.
"The number of fleet decision-makers that have so far booked to attend the seminar reveals that there is significant interest in electric vehicles from the people that ACFO represents.
"However, we are also aware of much uncertainty among fleet operators as to the viability of electric vehicle technology and the operational cost of such vehicles.
"The seminar will address all those issues so that fleet chiefs will depart the event with a comprehensive understanding of the road ahead for electric vehicles in corporate applications.
"The seminar also demonstrates ACFO's ability to bring together a top-class speaker line-up to address key issues facing fleet operators and we hope the event will result in many more people with responsibility for company cars and vans joining the organisation."
Anyone wishing to attend the ACFO Electric Vehicle Seminar should register by Friday, January 31.
Non-members attending who have operational fleet responsibility will have the opportunity to join ACFO at the special rate of £127, plus VAT.
Image courtesy of TheDigitel Myrtle Beach, with thanks.