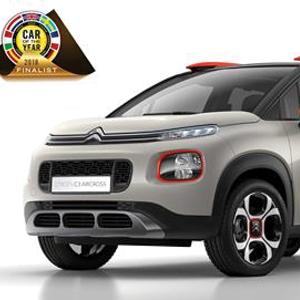 The jury for the European Car of the Year award has officially announced the seven finalists selected from the list of 37 eligible cars.
New Citroën C3 Aircross Compact SUV has been named as one of the seven nominees in this prestigious competition. The Car of the Year 2018 will be revealed on 5 March at the Geneva International Motor Show.
The Car of the Year Organising Committee has awarded this top honour every year since 1964. Sixty journalists from 23 European countries take part in the voting process. The winner is selected on the basis of a number of criteria, including quality-price ratio, design, comfort, safety, technologies and environmental performance.
New Citroën C3 Aircross Compact SUV is one of the seven finalists for Car of the Year 2018. With unique styling and a strong, original character, New C3 Aircross has already attracted more than 25,000 orders in Europe since its launch in October. Its cabin, which benefits from Citroën's unique know-how in terms of spaciousness, modularity and design, is a particularly attractive feature for customers. Offering a high level of comfort and safety, New C3 Aircross features 12 of the latest driving aid technologies and four connectivity technologies. It also earned five stars in the latest Euro NCAP tests that were recently published.
Citroën recorded 426,000 registrations in Europe in the first of half of 2017, a six-year record and an increase of 5.6% compared with the same period in 2016. One year after the launch of New C3 – the best-selling model in the Citroën range – over 200,000 units have been sold in total. Still in its launch phase, New C3 Aircross joins Citroën's brand renewal campaign, to accelerate its strong performance.
Following comparative tests of the seven finalists in February 2018, the model receiving the most votes will be named Car of the Year in this prestigious contest on 5 March 2018, the evening before the Geneva International Motor Show opens.