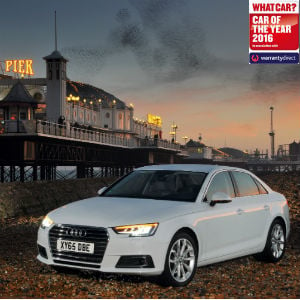 The What Car? Awards, now in their 39th year, hail the very best cars on sale in Britain, with the title's team of expert testers assessing all cars to ascertain which are the finest money can buy.
A raft of 16 core test criteria, each with numerous layers of detailed investigations, include back-to-back testing on all types of road and at What Car?'s test facilities, a rigorous analysis of all ownership costs from purchase payments through to tax implications, mystery shopping to get the best prices and independent True MPG testing to find out which cars are the most economical in the real world.
The VW Group has dominated the 2016 What Car? Car of the Year Awards, winning eight of 19 'best buy' categories, including the biggest trophy of the night – the overall Car of the Year Award, won by the all-new Audi A4.
None of the award-winning cars are affected by dual NOx and CO2 emissions scandals, because all of them are powered by the latest generation of petrol, diesel and hybrid engines, which have been recertified in recent months.
Jim Holder, editorial director of What Car?, said: "When we began the judging process, the VW emissions scandal was in full swing.
"However, our guiding principle is to recommend the best cars on sale today. We have tested all cars with our unrivalled rigour and scrutiny on a level playing field with all of their rivals.
"Regardless of the scandal, the VW Group still builds cars that rank among the very best on the road and, tested against our criteria covering all of the rational reasons that consumers choose one car over another, the results are clear to see."
Brands from the VW Group have always been strong contenders in the What Car? Awards – since the inception of the Awards in 1978, the VW Golf has won the overall COTY award four times, more than any other model, while VW as a brand is the most successful in the history of the main prize, with six wins to its name.
Meanwhile, Audi is the only car manufacturer to win the What Car? Car of the Year award more than once in the last 10 years – the A1, A3 and now the A4 have all scooped the main prize.
Dominique Boesch, Audi's Head of Sales for Europe, said: "We at Audi feel enormously privileged to be recognised so conclusively with the coveted overall Car of the Year award, the strongest possible vote of confidence from What Car?
"For the A4 to receive such an award is enormously meaningful for us and is a recognition of the advanced engineering and design that the A4 epitomises, which make it such a popular choice for UK drivers.
"We could not have hoped for a better result for a car that incorporates all the 'Vorsprung durch Technik' genes that our customers will shortly experience in many more new models in our range."
The full results from the What Car? Awards, including all cars that received recommendations, can be found here <http://awards.whatcar.com> but the winners in each category are as follows:
Full list of What Car? Award winners
| | |
| --- | --- |
| What Car? Car of the Year 2016 | Audi A4 3.0 TDI 218 Sport |
| City Car (sponsored by Warranty Direct) | Hyundai i10 1.2 87 SE |
| Small Car | Skoda Fabia 1.2 TSI 90 SE |
| Family Car | Skoda Octavia 1.2 TSI 110 SE |
| Electric Car | Volkswagen Passat Estate GTE |
| Coupé | Audi TT 2.0 TFSI 230 Sport |
| Estate Car | Skoda Superb Estate 2.0 TDI 150 SE Business |
| MPV | Volkswagen Touran 1.6 TDI 110 Bluemotion Tech SE |
| Hot Hatch | Ford Fiesta ST-2 |
| Convertible | Mazda MX-5 2.0 SE-L Nav |
| Small SUV | Nissan Qashqai 1.5 dCi 110 N-tec |
| Large SUV (sponsored by CAP HPI) | Land Rover Discovery Sport 2.0 TD4 180 SE Tech auto |
| Compact Executive Car (sponsored by Allianz) | Audi A4 3.0 TDI 218 Sport |
| Large Executive Car (sponsored by Allianz) | BMW 5 Series 520d SE auto |
| Sports Car | Porsche Boxster 2.7 |
| Luxury Car (sponsored by NEC) | Mercedes-Benz S-Class S350d SE Line L |
| Technology Award (sponsored by Stuff) | Toyota Mirai and Hyundai ix35 Fuel Cell |
| Safety Award (sponsored by Thatcham) | Volvo XC90 |
| Reader Award (sponsored by CAP HPI) | Alfa Romeo Giulia |
Readers voted the Alfa Romeo Guilia the Most Eagerly Awaited Car for 2016
Ford Fiesta ST Scores a Hat trick, being named Best Hot Hatch for the 3rd year running